Mark joins Red Bull TV for live action from Rally Italy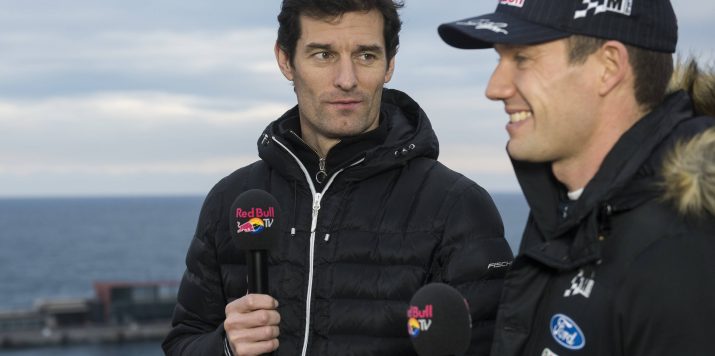 Get your devices switched on…
Mark is reprising his role as guest reporter with Red Bull TV this weekend for the Italian round of the World Rally Championship in Sardinia. It's his second stint as guest reporter after the WRC season opener in Monte-Carlo back in wintry January on asphalt stages, and he can't wait to see the cars in action on gravel.
Mediterranean-style starter
Mark and his co-reporters Mike Chen and Matthew Wilson will be getting into the Italian spirit of things on the Island of Sardinia – as teased in this nifty 'quick facts' infographic put together by RBTV: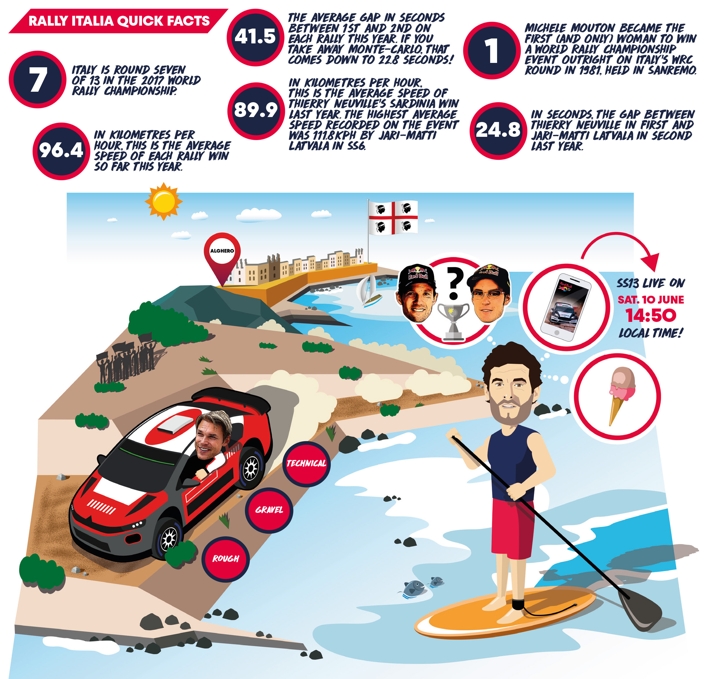 A little battle insight
The feisty Championship battle between M-Sport driver (and four-time champ) Sebastian Ogier and Hyundai's Thierry Neuville resumes with only a 22-point gap. Having a fair bit of experience with tight championship battles and dealing with quick adversaries, Mark spoke to Red Bull TV ahead of this weekend's gravel stages for a little insight into what might be going on mentally between the two title contenders – view the interview here.
How to watch
RED BULL TV BROADCAST SCHEDULE*
Highlight Show (30 min.) Friday 9 June 22:00 (local time)
Live Coverage (75 min.) Saturday 10 June 14:50 (local time)
Highlight Show (30 min.) Saturday 10 June 22:00 (local time)
Highlight Show (30 min.) Sunday 11 June 22:00 (local time)
* Watch Red Bull TV on all your devices, whenever you're connected.
1 Comment
Merce

on August 27, 2017

Reply

Hello Mark, I'm the Merce a fan who lives in Catalonia. I wanted to say for many years and that many more time in the company of yours.
Also from my daughter for many years. Now I do not see you so much. I wish you great luck. That you wake up very well. An embrace and a kiss.
Add comment
LATEST EVENTS
Abu Dhabi Grand Prix
November 19/20
Mark attends the 2022 Formula One Grand Prix season finale in Abu Dhabi with Channel 4