World championship leaders set best time in their Porsche 919 Hybrid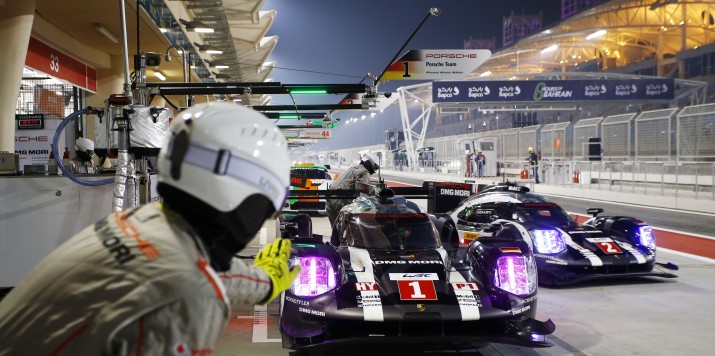 Excitement increases in the lead up to the final round of the FIA World Endurance Championship on Saturday and the Porsche Team, with the two 919 Hybrids, had a very positive first day of practice in Bahrain. The championship leaders, Romain Dumas, Neel Jani and Marc Lieb, topped the time sheets in both of the two 90-minute free practice sessions. Jani set the fastest lap of the day with a time of 1:39.817 minutes. This is only 0.081 seconds slower than last year's pole position time, and this is despite the fact that, according to the regulations, the Porsche 919 Hybrid can use eight per cent less energy per lap in 2016. The reigning World Champions, Timo Bernhard, Brendon Hartley and Mark Webber, came fifth and second in the two sessions on the 5.412 kilometre long Formula One circuit in the Persian Gulf region. In this trio Hartley did the fastest lap in 1:40.272 minutes.
For Dumas/Jani/Lieb the six-hour race is all about the drivers' world championship. They have an advantage of 17 points ahead of the best placed Toyota. Finishing fifth in the race would still be enough for them to win the title, even if the number 6 Toyota won and also took the one point for pole position. Reliability has the highest priority for the Porsche Team. Weather conditions are highly likely to be stable with ambient temperatures of around 30 degree Celsius during the day and around 25 degree at night. Qualifying as well as the majority of the race will be held in the dark. At the penultimate round in Shanghai Porsche secured the world championship title for manufacturers for the second consecutive year.
"In the first session we used only one set of tyres, which is normal for FP1″ said Mark. "Everything went very smoothly. We got a lot of information for the race, made some changes and improved the car for the second session. But we will keep working on it overnight and we have some more ideas."
LMP1 qualifying will be held on Friday from 17:30-17:50 hrs local time. The six-hour race starts on Saturday at 16:00 hrs (14:00 hrs in Central Europe).
Add comment
LATEST EVENTS
Abu Dhabi Grand Prix
November 19/20
Mark attends the 2022 Formula One Grand Prix season finale in Abu Dhabi with Channel 4