Porsche wins WEC debut in Mexico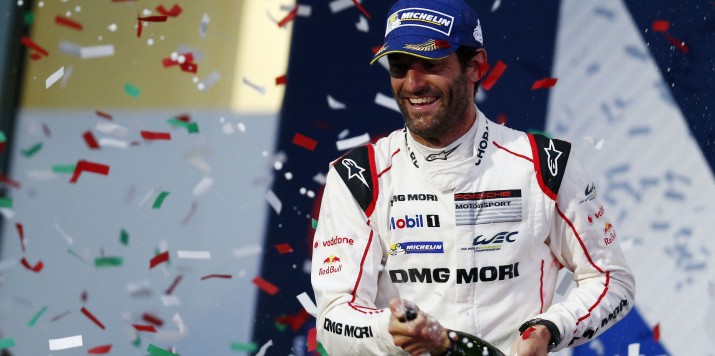 The reigning world champions Timo Bernhard, Brendon Hartley and Mark Webber won the thrilling six-hour race in Mexico City. By winning the fifth of nine rounds of the FIA World Endurance Championship, with the 919 Hybrid Porsche further extended its lead in the manufacturers' standings. The trio of Romain Dumas, Neel Jani and Marc Lieb came fourth in the race on Saturday and extended their lead in the drivers' world championship. The fastest race lap on the 4.304 kilometre Formula One track was achieved by Brendon Hartley in 1:25.880 minutes on lap 114.
In total this is the 11th victory for the innovative Porsche 919 Hybrid prototype since its 2014 debut. In the current season the 919 has won four races, including the Le Mans 24 Hours. For Bernhard/Hartley/Webber it is their sixth WEC success. Porsche now leads the manufacturers' standings with 201 points ahead of Audi (158) and Toyota (112). Dumas/Jani/Lieb lead the drivers' standings by 41 points.
"Another race win for Porsche and the number 1 crew," said Mark. "During my stint in the first third of the race I had a great battle with Lucas Di Grassi, and he was hunting me down for almost the entire stint. The call of the day was to manage traffic and find a rhythm. Also the track was pretty changeable. Not only when it rained, but also earlier. Sunshine was not what we wanted today. We had set-up the car in a way that it would become better the cooler the track became. Also the difficult decisions on tyres worked well for us, the team once again did a great job."
1 Comment
Geoff Reeves

on September 4, 2016

Reply

Well done Mark
Keep it going mate we are enjoying it at home
Geoff
Add comment
LATEST EVENTS
Leadfoot Festival, New Zealand
February 8-9
Mark will be visiting New Zealand to enjoy Leadfoot Festival on the beautiful Coromandel Peninsular.