Porsche repeats last year's victory at the Nürburgring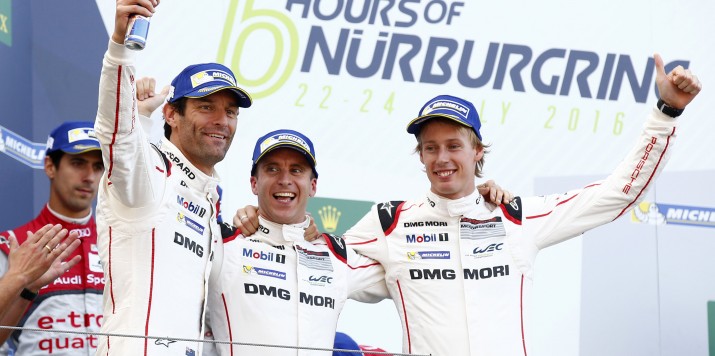 Porsche Team: Mark Webber, Timo Bernhard, Brendon Hartley (l-r)
The reigning world champions Timo Bernhard, Brendon Hartley and Mark Webber repeated their last year's win at the six-hour race at the Nürburgring. By doing so, Porsche, with the 919 Hybrid, extended their lead in the manufacturer standings of the FIA World Endurance Championship. Romain Dumas, Neel Jani and Marc Lieb came fourth in the race and continue to lead the drivers' world championship. Just like the 2015 debut, the German round of the WEC was a success: 58,000 spectators witnessed breathtaking motorsport in nice summer weather in the Eifel mountains. It was the fourth of nine rounds of the 2016 WEC.
This is the third victory this season for the Porsche 919 Hybrid, after wins at the Silverstone and Le Mans races. In total the prototype has won ten races since its 2014 debut. For Bernhard/Hartley/Webber it is their fifth success. Porsche now leads the manufacturers' standings with 164 points ahead of Audi (129) and Toyota (97). Dumas/Jani/Lieb lead the drivers' standings by 33 points.
"I'm very happy for Porsche winning their home race," said Mark. "It was an exceptional performance against strong competition. This is the day of the mechanics of car number 1 who had some tough times recently and it is good points for the constructors' championship. We had completely different track conditions in the race than we saw before and I was very happy with the performance of our car and our driving. It was a bit of a mixed up race. We lost some time in a full course yellow period when the car in front of me wasn't going 80 km/h as the regulations say. Then our sister car had a drive through penalty. We had great battles on track with Audi and I was never bothered which of our cars did it, but the most important thing to me was to beat Audi today."
1 Comment
Maria rose

on August 27, 2016

Reply

Happy 40th birthday hope you have a great day. Looking forward to watching your commentary from Spa and good luck in Mexico next week.
Add comment
LATEST EVENTS
Abu Dhabi Grand Prix
November 19/20
Mark attends the 2022 Formula One Grand Prix season finale in Abu Dhabi with Channel 4