Porsche 919 Hybrid going over 320 km/h on a country road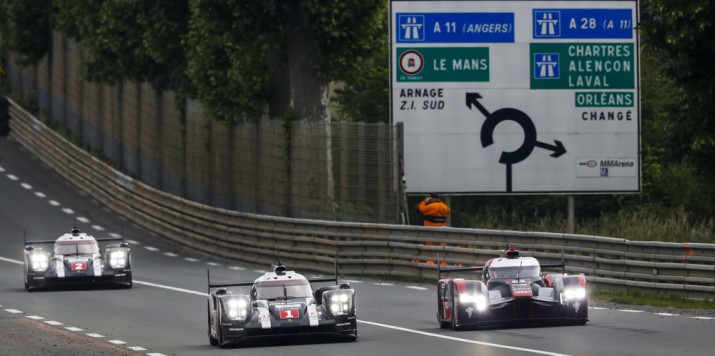 The 2016 Le Mans event has begun: The Porsche Team has used the official pre-test to set up the two Porsche 919 Hybrids for the 24-Hour marathon on June 18/19. Today provided the only opportunity to test on the 13.629 kilometre long Circuit de la Sarthe. The track includes 9.2 kilometres of what are normally public country roads. This part includes the famous Mulsanne straight on which the 900 HP strong Porsche Le Mans Prototypes (LMP1) go significantly over 320 km/h.
The fastest lap in a Porsche 919 Hybrid, 3:22.270 minutes, was achieved by Mark Webber shortly after noon. The Australian shares the car with Timo Bernhard (DE) and Brendon Hartley (NZ). Being the reigning FIA World Endurance Championship (WEC) champions, of which the Le Mans 24 Hours is the ultimate highlight, the trio's car carries the number 1. With a lap time of 3:22.334 minutes Neel Jani was on the same level of speed in the number 2 sister car. The Swiss leads the drivers' standings in the WEC together with teammates Romain Dumas (FR) and Marc Lieb (DE).
Especially in the beginning of the day, the track was slippery, but, unlike last year, it stayed dry. In total the two Porsche 919 Hybrids completed 173 laps (2,357.8 km) in seven and a half hours. The afternoon session was red flagged with 30 minutes to go at 17:30 hours for repairs to the heavily damaged guard rail following an accident. The day's best time went to the number 8 Audi (3:21.375 minutes).
Quotes after the pre-test:
Fritz Enzinger, Vice President LMP1: "The return to Le Mans after last year's success is a special moment for us. Along with our endurance test in Aragon, today's test went without any issues. Looking at the time sheets, for sure we can expect an exciting race weekend. The top four cars are within 1.2 seconds on a 13.6 kilometre long track – this underlines what we have kept saying since the beginning of the year: The competition has become closer and this goes especially for Le Mans."
Andreas Seidl, Team Principal: "It was a successful start for us, which makes us confident for the race. Both cars ran smoothly and we completed our entire test programme in dry conditions. In the morning session the focus was on set-up work, in the afternoon we worked mainly on long runs for the tyres. It was also important to practice all the Le Mans specific procedures with race control, such as safety car deployment and slow zones. As a team, we feel well prepared for the race week."
"How long you can drive on a single set of tyres is key in the race, so evaluating tyres was top priority today," said Mark. "It was good for us the weather held off for the sessions and the predicted rain didn't come. It was a smooth test for us."
Add comment
LATEST EVENTS
Abu Dhabi Grand Prix
November 19/20
Mark attends the 2022 Formula One Grand Prix season finale in Abu Dhabi with Channel 4