Porsche 919 Hybrid extends manufacturers' championship lead in Japan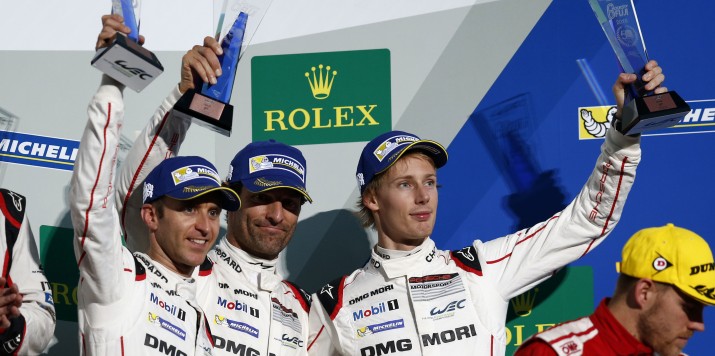 Porsche came third and fifth with its two 919 Hybrids in a thrilling six-hour race at the Fuji International Speedway. Porsche thus defended its lead in both, the manufacturers' and drivers' classifications, at the seventh out of nine rounds of the FIA World Endurance Championship. Toyota achieved a victory on home soil. After 244 laps all three manufacturers engaged in the top category LMP1 were within 18 seconds.
For quite a while Timo Bernhard, Brendon Hartley and Mark Webber had chances to win the race; in the end they finished third. The reigning world champions had started from second place on the grid. This year's Le Mans winners and current championship leaders, Romain Dumas, Neel Jani and Marc Lieb, had started from sixth position. They were unhappy with the car's balance for some of the time and came fifth. Because their closest rivals in the drivers' championship took more points than them, their advantage has shrunk to 23 points.
In the manufacturers' standings, Porsche (263 points) has increased its lead over Audi (204). Toyota follows with 174 points and there are two more six-hour races to come.
The race at the foot of Mount Fuji was held in constantly dry conditions at ambient temperatures of around 20 degrees Celsius.
"The start and first lap of the race was pretty clean racing for everyone," said Mark. "Then we settled into the grove. The Audi and Toyota were faster than us in the beginning but we stayed in the game and improved when the track temperatures came down a bit. On my second stint I got some time back on the Toyota and to the Audi who apparently had a problem at the pit stop. The race was coming to us a little bit to us. For a very long time the three cars at the front could equally have won the race. Congratulations to Toyota."
1 Comment
Petra

on October 17, 2016

Reply

Hi Mark, congrats to you and the team on your 3.place in Fuji . Great result! I know you wanted more! Sadly you're leaving the race tracks of this world, but it's exciting to read you're going to stay with Porsche !
All the best for Shanghai , my MW -FAN – friends will be there to cheer you on! I miss being in Shanghai and miss China in general !
Big hug from Germany
Add comment
LATEST EVENTS
Australian Grand Prix
April 8-10
Mark joins Channel 10 in Melbourne as the Australian Grand Prix returns after a two year hiatus.