Podium finish and title win for Porsche in a highly emotional finale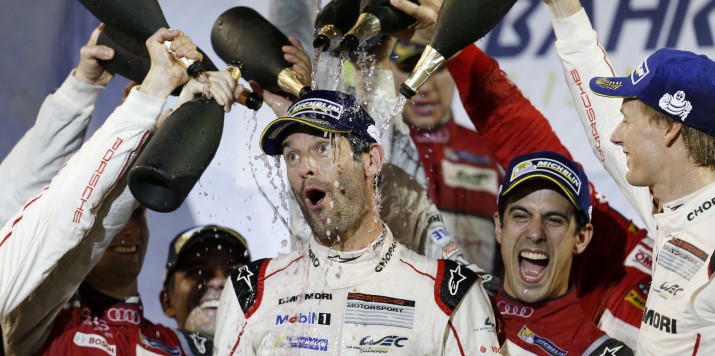 For the second consecutive year Porsche has taken everything in the FIA World Endurance Championship: victory in Le Mans, winning the manufacturers' world championship in Shanghai and now again the drivers' world championship at the finale in Bahrain. In the last of nine WEC rounds in 2016 Timo Bernhard, Brendon Hartley and Mark Webber came third, having started second on the grid with their Porsche 919 Hybrid. The new world champions, Romain Dumas, Neel Jani and Marc Lieb only came sixth after contact with another car early in the race. Audi's dominant one-two race result was an impressive farewell from the WEC.
The six-hour race started at 16:00 hrs with ambient temperatures near 30 degrees Celsius. After the sun had set at 16:45 hrs the air cooled down to 24 degrees.
How the race went for car number 1:
Bernhard starts from second on the grid and lets Jani in the sister car pass him on the first lap. On lap 13 the number 7 Audi also overtakes him, Bernhard is fourth now. After 29 laps he hands over to Webber, who manages to improve to third by overtaking the number 5 Toyota on lap 43. Hartley jumps in after 59 laps, and after 89 laps Bernhard takes over until Hartley is back in the car after 120 laps. Bernhard once again jumps in after 150 laps, before finally, after 180 laps, Webber goes in to enjoy the final stint of his racing career. After a total of 201 laps he brings the 919 home in P3.
"I was the second and the last driver in the car today, and pretty happy with both stints," said Mark.  "Early in the race I had a nice little fight with the number 5 Toyota. I managed to get passed him and tried to pull away, but we didn't have enough pace to fight the Audi. Then for the final stint it was pretty emotional putting my helmet on for the last time. I enjoyed the last stint and I got the chance to bring the car to the chequered flag for the top three finish, and this was the maximum we could get today. It has been such an incredible three years for me with Porsche, together with Timo and Brendon and the whole team. Nothing is forever, I'm stopping at a good time and I'm looking forward to seeing everybody again soon."
9 Comments
Add comment
LATEST EVENTS
Abu Dhabi Grand Prix
November 19/20
Mark attends the 2022 Formula One Grand Prix season finale in Abu Dhabi with Channel 4