MARK'S NÜRBURGRING MEMORIES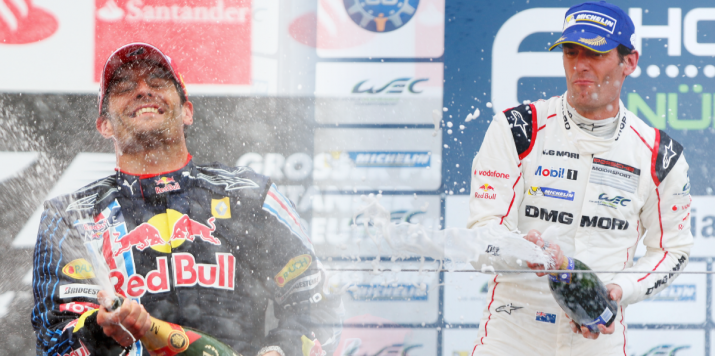 A happy hunting ground in the past, Mark shares his best memories of the Nürburgring.
When I was doing Formula Ford in Australia I remember watching one particular race on TV. It was the 1995 European F1 GP at the Nürburgring where Michael Schumacher won on the last few laps against Jean Alesi. Jean was driving for Ferrari and Michael was in the Benetton and he passed him on the outside of the last chicane on the second to last lap in wet conditions.
I watched the race live on TV late at night in Australia which was a huge highlight for me – my dad didn't quite share my excitement as he was snoring next to me.
I've got a lot of great memories of the Nürburgring like my first F1 victory there in 2009. It was a huge moment for me and to get that first Grand Prix win under my belt was a big relief. It was nice to do it on a classic track like the Nürburgring. I always feel pretty comfortable on this track and I find it enjoyable to drive with all its history and character. We were quite lucky with the conditions there last year but the weather in the Eifel mountains can often be unpredictable and conditions can change quickly.
The track is pretty narrow in our 919 hybrid. The F1 cars are a bit smaller and a little bit more agile and the 919 is a big sports car so it seems a small track for these cars. It's not easy and it's very challenging to put it all together and traffic becomes a bigger subject again on the short tracks.
Last year Timo, Brendon and I had our first WEC win there which was very special and a great team result for us. The atmosphere on the WEC's debut race was great with lots of fans.
It's not been the best season for us so far in terms of results, however we've been in very good form with good pace and Timo, Brendon and I have been driving well. On car #1 we've shown that we've been incredibly fast but so far in the first three races we've not been the most fortunate.
We hope that we'll have a smooth weekend in Germany and to get an awesome result at Porsche's home race.
Add comment
LATEST EVENTS
Abu Dhabi Grand Prix
November 19/20
Mark attends the 2022 Formula One Grand Prix season finale in Abu Dhabi with Channel 4