MARK'S MEMORIES – SILVERSTONE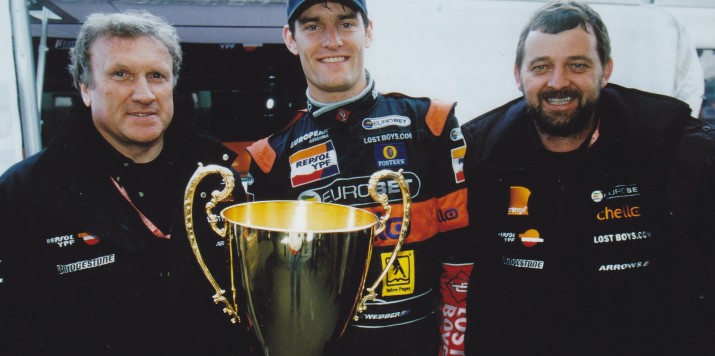 Ahead of the first race of the 2016 season, Mark shares some of the memories he has of Silverstone.
Out of all F1 races I watched growing up in Australia, the 1987 Silverstone GP is one I particularly remember. I was about 11 and it was a classic race between Nigel Mansell and Nelson Piquet in the two Williams cars. They were racing each other hard and Nigel famously overtook Nelson on Hangar Straight into Stowe corner to win the race. I had no real feeling of how special the passing move was back then, but what grabbed me was seeing the crowd invading the track and how much it meant to the local people for a local driver to win his home race. 
I loved the wide, big slick rear tyres, I loved that you could see the drivers helmets, and the low cockpits meant that you could see them working inside it as well. I think it was a great period of the sport, with huge horsepower and there were always sparks – they were real men hanging on to those cars.  
Those were awesome days for me watching the racing on TV and watching my heroes go wheel to wheel. I have so many amazing memories of Silverstone but that was one of my earliest recollections of this track.
I had some wins throughout my career in Silverstone too. I won my first race there in 1996 in Formula Ford and we also won there in sportscars with Mercedes in 1998.
I've also got great memories of winning in F3000 there. It was the second round of the 2000 season and we had wet and tricky conditions. I was running second and there was an English driver, Darrren Manning, leading the race. I could see that I was catching him and would need to get the passing move done at some point. Some of the lines he was using I wasn't that impressed with and thought I could take better lines. But, I didn't want to show him those when I passed him. Therefore, I wanted to try and get a gap on him by still using his racing lines and then get far enough away so that I could use my lines again!
When I made the move into Club, there was contact. I don't know if he spun or went off the road but I continued without any issues. I got enough of a gap so that he couldn't see my tread marks in the wet and I could revert to my old lines. The race was quite straightforward from then and I went on to win the race. The podium was great because even though it was wet all weekend the British crowd was patient and still hanging around.
I was in the paddock with Tom Walkinshaw, the Formula One team owner, and Paul Stoddart my boss who I was driving for in Formula 3000. I was sponsored by Fosters at the time and I think Kylie Minogue was there as well so we had quite a good after race party!
Of course my two wins there in F1 in 2010 and 2012 rank highly and are very special as it always felt a bit like a home race for me and there are not many drivers who have won there twice.
2 Comments
Mark

on April 12, 2016

Reply

I was there in 2012. Saw a great victory to an even greater champion. And yes, I hung around all weekend in the wet too (I'm Aussie too), and waited to see my hero on stage after the race.

Joe basha

on April 13, 2016

Reply

I listened to the 86 race at Silverstone on FM radio as I was at boarding school in Sydney. I had I imagine the whole thing without vision.
It was still fabulous
Add comment
LATEST EVENTS
Abu Dhabi Grand Prix
November 19/20
Mark attends the 2022 Formula One Grand Prix season finale in Abu Dhabi with Channel 4