Mark and Porsche take 919 hybrid to the streets of London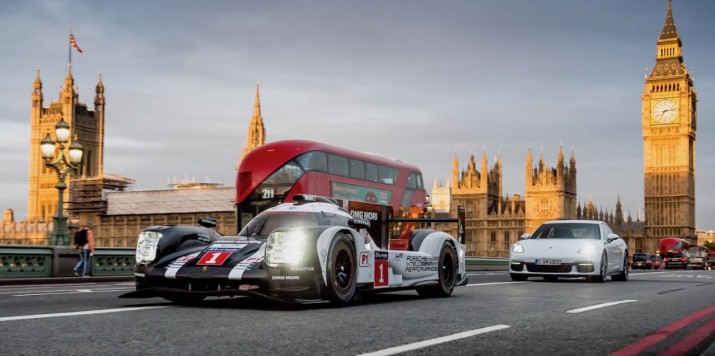 Mark Webber brings Porsche race-winning technology alive on the city streets of London – with the 919 Hybrid and Panamera 4 E-Hybrid.
This morning, the two most advanced Porsche cars built so far, the Le Mans-winning 919 Hybrid LMP1 and the all-new Panamera made history; the world's fastest petrol: electric race car took to the London streets, alongside the new Panamera 4 E-Hybrid, to demonstrate how Porsche is translating its race-winning Hybrid technology from the track to the road.
Mark drove the 919 Hybrid through the city from Park Lane to the South Bank of the River Thames. Webber navigated the capital's streets via Hyde Park Corner, Regents Street, Piccadilly Circus, Trafalgar Square, Parliament Square to arrive at the distinctive London County Hall Hotel, adjacent to the famous London Eye.
"It was an amazing experience," said Mark after his unique drive. "We stopped a lot of traffic but they were pretty excited to see the car, everyone was taking photos and it was a real show stopper!"
Add comment
LATEST EVENTS
Abu Dhabi Grand Prix
November 19/20
Mark attends the 2022 Formula One Grand Prix season finale in Abu Dhabi with Channel 4