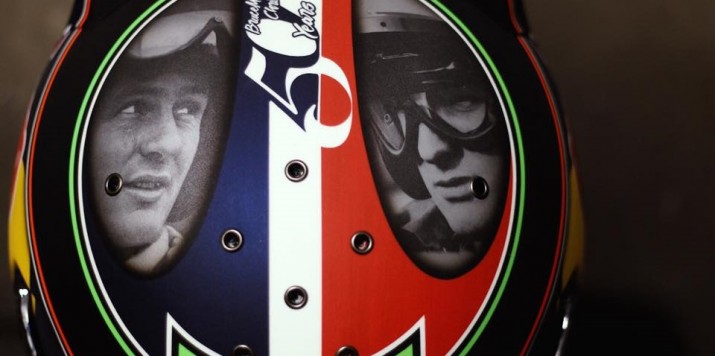 Mark's Porsche teammate and fellow reigning World Endurance Champion Brendon Hartley will be paying tribute to Kiwi racing legends Bruce McLaren and Chris Amon at this year's Le Mans 24 Hour race.
The New Zealand duo became the first Le Mans winners from their home country in 1966 and Brendon has created a special helmet design to celebrate the anniversary of his compatriots' famous success.
"This weekend marks 50 years since they [Chris Amon and Bruce McLaren] won the big race and started the history book for Kiwis at Le Mans," said Brendon.
"I have been lucky enough to swap Le Mans war stories with Chris, but unfortunately Bruce passed away before my time. I was honoured that Bruce's family and Chris were happy for me to commemorate their famous victory on my 2016 Le Mans Helmet. The Red and Blue stripes represent Chris's helmet, and the Grey background Bruce's."
The helmet design will also feature the initials 'TJA' in a commemorative nod to one of the McLaren team's founding fathers, Tyler Alexander, who passed away earlier this year.  Tyler amassed an impressive personal collection of images over his long career in motorsport and the two featured on Brendon's helmet are from his archives.
Mark said of his team-mate's tribute, "it's fantastic that Brendon is honouring two such special racers in this way.  Although Aussies and Kiwis traditionally have a fierce rivalry, we are very similar and I have a huge amount of respect for the likes of [Bruce] McLaren, [Chris] Amon, Jack Brabham and Frank Gardner – they are cut from the same cloth and it's important to remember their hard-fought achievements."
Mark and Brendon aim to become the next of their countrymen (5th and 4th respectively) to stand on the top step of the podium this Sunday as they take on the 84th running of the 24 Heures du Mans alongside their teammate Timo Bernhard.
Watch a video about Brendon's helmet design here.
Add comment
LATEST EVENTS
Abu Dhabi Grand Prix
November 19/20
Mark attends the 2022 Formula One Grand Prix season finale in Abu Dhabi with Channel 4