Both Porsche 919 Hybrids on front row in Spa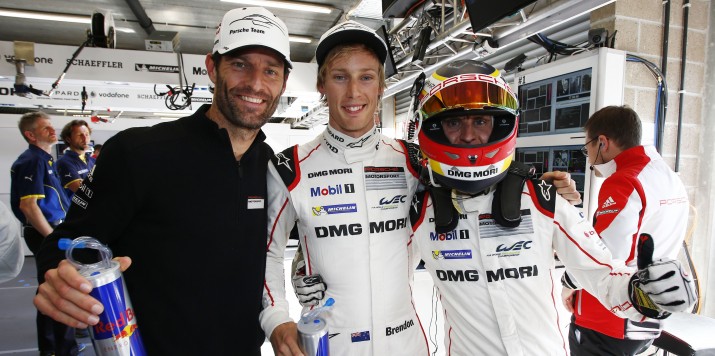 The two Porsche 919 Hybrids will start from the front row for the second round of the FIA World Endurance Championship. The reigning world champions Timo Bernhard, Brendon Hartley and Mark Webber claimed pole position with their number 1 car for Saturday's six-hour race. Next to them on the grid in Spa-Francorchamps is the sister-car number 2 of Romain Dumas, Neel Jani and Marc Lieb.
In the WEC the average of the respective best laps of two drivers counts for the grid position. In Spa Bernhard/Hartley (1:55.793 minutes) and Jani/Lieb (1:56.590 minutes) were the qualifying drivers. It is the first pole position in 2016 for the 919 and its 13th pole since the prototypes' debut in 2014. For the Bernhard/Hartley/Webber trio it is the 7th pole position in total. Due to higher track temperatures the pole time of Bernhard/Hartley was one second slower than their pole time from last year (1:54.767 minutes).
In the morning, during the third free practice session, the Porsche prototypes were the fastest cars on track – the number 1 car (1:56.465 min) ahead of the number 2 car (1:58.163 min).
The six-hour race starts on Saturday at 14:30 hrs local time. Eurosport will broadcast live from 19:00 to 20:45 hrs. Live feed, timing and more is available at the FIA WEC App. Live features such as on-board cameras, timing and GPS tracking are also available in the Porsche Motorsport App (free of charge). All live features are also available at porsche.de/fiawec.
1 Comment
Sheila Baker

on May 6, 2016

Reply

Well done guys first and second on the front row. Have a great race and come home the victors you all and Porsche deserve it.
Add comment
LATEST EVENTS
Abu Dhabi Grand Prix
November 19/20
Mark attends the 2022 Formula One Grand Prix season finale in Abu Dhabi with Channel 4