18th pole position for Porsche in Le Mans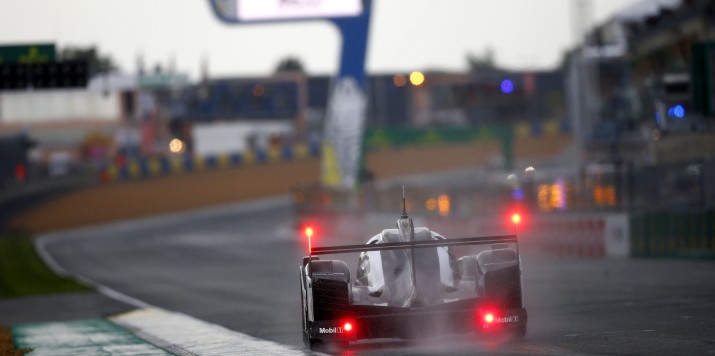 The Porsche Team with the innovative 919 Hybrid secured the 18th pole position in total for the brand at the Le Mans 24-Hours. Due to mostly wet track conditions in both qualifying sessions on Thursday, held from 7 pm to 9 pm and from 10 pm until midnight, there were no improvements in lap times for the top cars compared to the first qualifying session from Wednesday night.
The unbeaten best time for the field of 60 cars was achieved by Neel Jani on Wednesday. The Swiss had lapped the 13.629 kilometre long circuit in 3:19.733 minutes. In difficult track conditions he stayed above his qualifying record of 3:16.887 minutes that he achieved in 2015 and that now remains for the current track layout of the Circuit des 24 Heures. Timo Bernhard managed the second fastest lap on Wednesday. The reigning World Champion had managed a lap in 3:20.203 minutes. This means a front row lock out for the same Porsche works drivers as in Le Mans 2015. In the history of the race, that is being run in 2016 for the 84th time, it is the 15th time that Porsche has achieved a one-two result in qualifying.
Jani shares the 662 kW (900 PS) number 2 hybrid prototype with Romain Dumas and Marc Lieb. Bernhard takes on what is known as the world's hardest car race with partners Brendon Hartley and Mark Webber in the number 1 sister car.
"It's nice to have that qualifying result, but we know this is not even one per cent of the race," said Mark. "All teams and drivers now can't wait for the 24-Hours to start."
1 Comment
FAHIM.ALI

on June 19, 2016

Reply

Good luck and may the motoring gods be on your side! Miss you in F1 still but glad to be able to follow you through the endurance avenue.
Add comment
LATEST EVENTS
Abu Dhabi Grand Prix
November 19/20
Mark attends the 2022 Formula One Grand Prix season finale in Abu Dhabi with Channel 4