Timo, Brendon and Mark qualify on front row in Fuji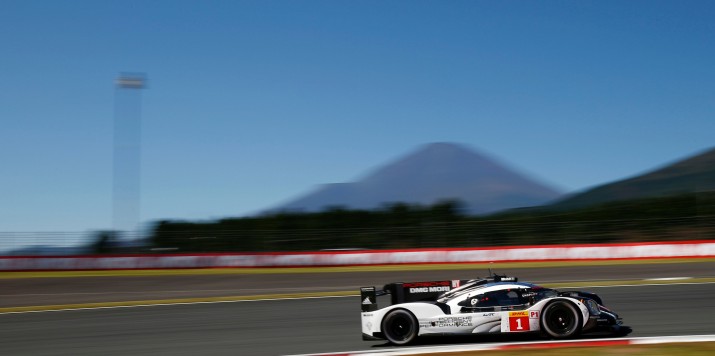 The two Porsche 919 Hybrids will start from positions two and six on the grid for the seventh round of the FIA World Endurance Championship at the Fuji International Speedway in Japan. The reigning world champions, Timo Bernhard, Brendon Hartley and Mark Webber, have qualified on the front row. The current championship leaders, Romain Dumas, Neel Jani and Marc Lieb, will start the six-hour race on Sunday from sixth on the grid. Pole position went to their rivals from Audi: The car number 8 crew was 0.025 seconds faster than the best Porsche. This translates into a distance of less than 1.4 metres.
For Porsche, this year's mission hots up with the race at the 4.549 kilometre Formula One circuit at the foot of Mount Fuji. Porsche's target is to defend both titles, for manufacturers as well as for drivers. Mathematically, but only if there were extraordinary circumstances, an early outcome in Japan is possible. The race starts on Sunday at 11:00 hrs (04:00 hrs in central Europe).
In the WEC the average of the respective best laps of two drivers counts for the grid position. Bernhard/Webber (car number 1, position 2, 1:23.595 minutes) and Jani/Lieb (car number 2, position 6, 1:24.134 minutes) were the qualifying drivers in Japan.
In the morning's third free practice session the two 919 Hybrids came third (car number 2, 1:24.558 Minutes) and sixth (car number 1, 1:25.623 Minutes).
"It was a really good fight for pole today," said Mark. "It wasn't quite enough for us, but Timo and I we were both happy with our best laps and we are in good shape for the race."
1 Comment
Petra

on October 15, 2016

Reply

Hey Mark , how're you? That's an absolutely fantastic result ! So happy for you boys! All the best of luck for the race!
Big hug from Germany !
Add comment
LATEST EVENTS
Abu Dhabi Grand Prix
November 19/20
Mark attends the 2022 Formula One Grand Prix season finale in Abu Dhabi with Channel 4