Tricky task at Mount Fuji and encouraging lap times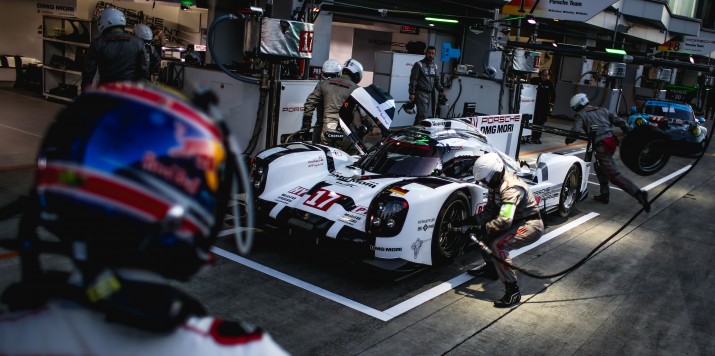 The Fuji Speedway in the Japanese Alps welcomed the FIA World Endurance Championship (WEC) in bright sunshine with temperatures of over 20 degrees Celsius. The Porsche Team had two positive free practice sessions, each 90 minutes long, in preparation for the sixth of eight World Championship rounds. The two Porsche 919 Hybrids with the driver trios of Timo Bernhard (DE)/Brendon Hartley (NZ)/Mark Webber (AU) and Romain Dumas (FR)/Neel Jani (CH)/Marc Lieb (DE) were fourth and second in the morning and first and third in the afternoon.
Intense work on the aerodynamic set-up of the Le Mans Prototypes meant more bodywork parts than usual had to be ready in the garage. Featuring a very long 1,500 metre straight, but also many tight corners, the circuit, that is only 4.549 kilometres long, places contradicting challenges regarding the car's downforce level. The team used both components with which it won on the high-speed circuit of Le Mans as well as those that were fitted to the winning car at the rather windy Nürburgring and Circuit of The Americas tracks. In the end the team tended to go for a relatively high downforce level and paid the price for this with lower top speeds on the straight. Another aspect is a change of weather conditions that is forecast: When the six-hour race is held on Sunday (start time is 11:00 hrs local time) Mount Fuji might well be covered in rain clouds.
In Japan Porsche wants to extend its lead in the manufacturers' championship and catch up to the leading Audi trio in the drivers' standings. Not an easy task: the prototype from Ingolstadt showed a strong performance on the first day of practice.
"We have had a good first day here. Fuji's very long straight, combined with the tight corners in the last sector, obviously requires a good compromise for the aero set-up," said Mark. "We are still chasing the track a little bit, but gathered lots of good data and had zero problems."
Add comment
LATEST EVENTS
Abu Dhabi Grand Prix
November 19/20
Mark attends the 2022 Formula One Grand Prix season finale in Abu Dhabi with Channel 4