Thriller in the Ardennes – second, third and sixth for Porsche 919 Hybrids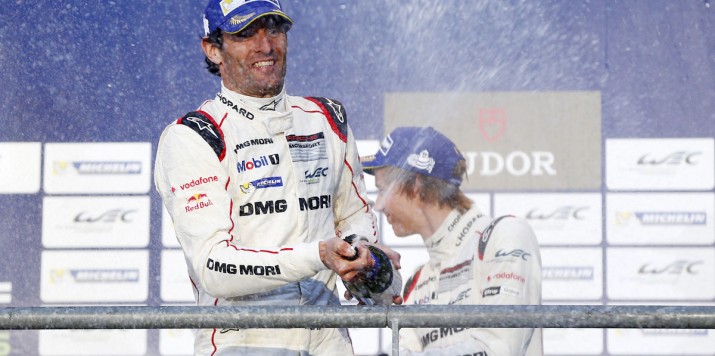 After an action packed six-hour race in Spa-Francorchamps, the trio of Romain Dumas (France), Neel Jani (Switzerland) and Marc Lieb (Germany) came second at round two of the FIA World Endurance Championship (WEC). This is a repeat of the season's opening race in Silverstone. Timo Bernhard (Germany), Brendon Hartley (New Zealand) and Mark Webber had started from pole position, dropped back due to a penalty and a technical failure, but fought their way back to finish third. The third Porsche 919 Hybrid with Earl Bamber (New Zealand), Formula One driver Nico Hülkenberg (Germany) and Nick Tandy (Great Britain), that was being entered for the first time, started second but lost ground because of an accident which was followed by a stop for repairs. They recovered after dropping to the back of the field to finished sixth.
How the race went for car number 17:
Hartley took the lead from pole position. Just before he was due to hand over the car to Bernhard after 23 laps, he locked the brakes before the bus stop chicane and used the escape road to get back onto the track. He was given a 15 second stop and go penalty, which saw the car drop back to second place, before a damper change during the driver change to Webber after 47 laps cost even more time. Webber managed to improve to third during a double stint. After 95 laps Hartley took over, refuelled after 119 laps and handed over to Bernhard after 137 laps. Bernhard came in for his final stop for fuel after 161 laps and finished third.
"Having a mechanical problem is never nice, and we lost a lot of time," said Mark after the race. "In the first part of my double stint I didn't quite find a good rhythm, but in the second half it was a bit better. I think today's result is not what we were aiming for, but at least we were fighting strongly."
2 Comments
chris south

on May 4, 2015

Reply

Watched the Porsche feed from #17 and it was great watching you catch and round up those Toyotas!

Patty Marfyak

on May 13, 2015

Reply

You did a great job Mark getting the car back to 3rd place and on the podium. You know that track so well from your F1 days. So glad that they are showing your races in the USA. Enjoyed watching! If you do not have mechanical issues you should do great the rest of the season.
Add comment
LATEST EVENTS
Abu Dhabi Grand Prix
November 19/20
Mark attends the 2022 Formula One Grand Prix season finale in Abu Dhabi with Channel 4