Three Porsche 919 Hybrids dominate qualifying in Spa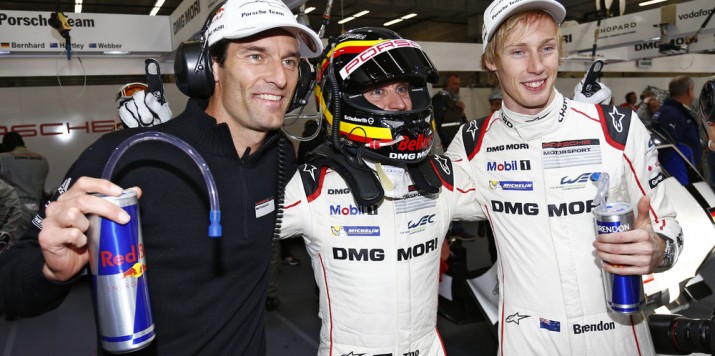 Coming first, second and third, Porsche dominated today's qualifying for the second round of the FIA World Endurance Championship (WEC) in Spa-Francorchamps (BE). Brendon Hartley (New Zealand) and Timo Bernhard (Germany) achieved the sixth pole position for the Le Mans Prototype since Porsche's return to the WEC top class last year. It is also the second consecutive pole position for the number 17 car this season. The performance of the sister cars underlined how strong the 919's second generation is: LMP1 newcomers Nico Hülkenberg (Germany) and Nick Tandy (Great Britain) qualified second with car number 19 for tomorrow's six-hour race. Neel Jani (Switzerland) and Marc Lieb (Germany) put the icing on the cake for the German sports cart manufacturer when they came third in their number 18 car.
In the WEC the average of the best laps of two drivers counts for the grid and Bernhard/Hartley achieved an average time of 1:54.767 minutes. This fairy tale time is almost six-and-a-half seconds faster than the pole time of Jani/Lieb from 2014 (2:01.198 mins), and is a new record for LMP1 in Spa. For the race Australia's Mark Webber completes the driver line-up in their car.
For Hülkenberg/Tandy the clock stopped at 1:55.025 mins. Their third man in the race is Earl Bamber (New Zealand). The qualifying time of Jani/Lieb was 1:55.284 mins, and they share their car on Saturday, as usual, with Romain Dumas (France).
After a wet Thursday, free practice three on Friday was the only opportunity for all nine drivers to do a few laps in dry conditions. Car number 19 was second on the time sheets (1:57.379 min), car number 18 came third (1:57.861 min) and car number 17 fourth (1:57.899 min).
The Spa race is the second of eight WEC rounds in 2015. The six-hour race will start on Saturday at 14:30 hrs local time and be broadcast by TV channel Eurosport from 18:30 to 20:45 hrs CEST.
"For me it was short and sweet. After not driving at all yesterday, I was in the car for a short time in free practice three today to get a feeling for it," said Mark. "But the target of the session was to do some housekeeping and get the car ready for Brendon and Timo for qualifying."
Add comment
LATEST EVENTS
Abu Dhabi Grand Prix
November 19/20
Mark attends the 2022 Formula One Grand Prix season finale in Abu Dhabi with Channel 4