Strong competition when the Le Mans Prototypes first met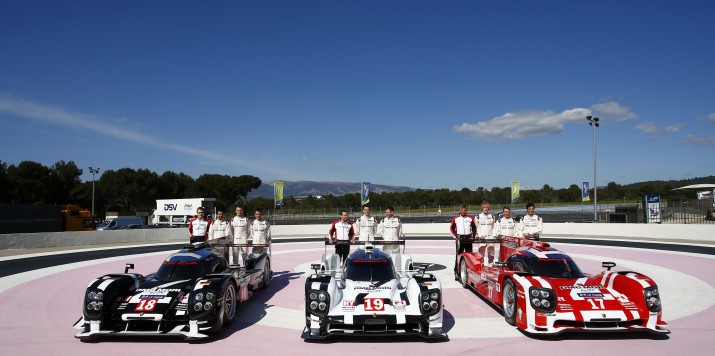 After Thursday's presentation of the new Porsche 919 Hybrid, the Porsche Team enjoyed productive testing at the Prologue to the 2015 FIA World Endurance Championship (WEC) in Paul Ricard, covering 4,188 kilometres in total. At the presentation of the new prototype, Porsche announced the switch to the highest energy recovery category of 8 megajoule. No other manufacturer has done that before. Furthermore a three-colour concept for Le Mans had been unveiled. At this race Porsche will start with a white, a red and a black 919 Hybrid. At the other seven World Championship rounds all the cars will be white.
At the two-day Prologue, which has established itself as a joint test and fan event to kick off the season, the two works driver trios were on duty: Timo Bernhard (GER), Brendon Hartley (NZ) and Mark Webber (AUS), as well as Romain Dumas (FRA), Neel Jani (CH) and Marc Lieb (GER). After every session a Porsche 919 Hybrid was on top of the time sheets. Neel Jani set the overall fastest lap time of the Prologue in 1.37,220 minutes on Friday night.
In bright sunshine and mild ambient temperatures, it was only some very strong winds that hampered testing on Friday. Fritz Enzinger, Vice President LMP1, summed up after the first meeting of the entire WEC field: "For sure we have got a very fast car. But we are also leaving Paul Ricard impressed by the performance of the competition on longer runs."
Team Principal Andreas Seidl said: "All LMP1 cars have made huge progress compared to 2014. Such a step from year one to year two was to be expected, considering how new and how open these regulations are. For us it was important to practice and double-check all procedures with two cars and all drivers before the first race. All the drivers managed a good mileage and had the chance to again familiarise themselves with the traffic in daylight and at night. Despite the heavy winds on day one, we've almost ticked off our entire programme. This included a qualifying simulation on Friday. On Saturday we were focussing on longer runs."
"It was nice to see all the teams again here in Paul Ricard," said Mark. "On day one the wind was really tricky, but on day two conditions were perfect. The focus then was on long runs, as we still have to find some performance there. Everyone is working really hard to extract as much performance as we can from our Porsche 919 Hybrid. The team is great. For 2015 everyone in the WEC has lifted the bar. Silverstone is demanding with a huge amount of change of direction and fast corner combinations. It will be challenging. Silverstone stands for pure racing and a great crowd of fans."
2 Comments
Ananda Thenabadu

on June 6, 2015

Reply

How can I get ( order ) a autographed copy of the upcoming book ( biography) of Mark?
I live in Sri Lanka.
Thanks and best wishes for your book launch.
Ananda Thenabadu.

Site Manager

on June 9, 2015

Reply

Hi Ananda – once Mark's book is published we'll be posting information on the website to let his fans know all the purchasing options, so keep an eye on the site and make sure you've subscribed to receive news!
Add comment
LATEST EVENTS
Abu Dhabi Grand Prix
November 19/20
Mark attends the 2022 Formula One Grand Prix season finale in Abu Dhabi with Channel 4