Porsche secure WEC title in Shanghai as Mark and his teammates take fourth consecutive win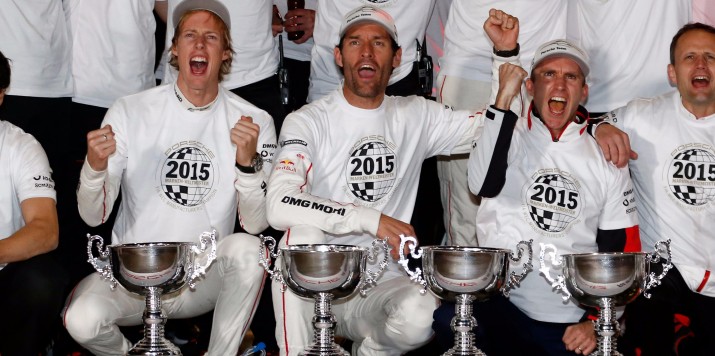 By taking the fifth victory in a row Porsche has made itself a World Champion in Shanghai. One race before the season's finale no one can take away the constructors' title in the FIA World Endurance Championship (WEC) from the young team from Weissach. In China the winning drivers were Timo Bernhard (DE), Brendon Hartley (NZ) and Mark Webber (AU) in a six-hour race of which two thirds were held on a wet track. The sister car of Romain Dumas (FR), Neel Jani (CH) and Marc Lieb (DE) finished second and hence the season's fourth one-two victory for the Porsche team.
Porsche has won the title with 308 points ahead of Audi (238) and Toyota (137). For Porsche it is the 13th constructors' World Championship title in endurance racing and the first since 1986. Between 1964 and 1986 Porsche took twelve constructors' titles in the then Sports Car World Championship.
The drivers' world championship title will be decided at the season's finale in Bahrain on November 21. Porsche drivers Bernhard/Hartley/Webber are leading with 155 points ahead of three Audi drivers who have scored 143 points.
How the race went for car number 17:
After the start behind the safety car the race goes green at the end of lap four and pole-setter Brendon Hartley stays in front. After 33 laps he comes in for refuelling and takes another set of rain tyres. The team uses the third of several full course yellow periods for the next pit stop and Timo Bernhard takes over after 52 laps. The conditions still only suitable for rain tyres. The lead is temporarily lost to the number 8 Audi and on lap 57 the number 7 Audi also overtakes Bernhard. On lap 61 the sister Porsche with Neel Jani at the wheel passes Bernhard as well. As the Audis pit, Bernhard lies second behind Jani. The following Porsche pit stop doesn't change the order. Bernhard comes in for fuel only after 84 laps and then reduces the gap to Jani. On lap 101 the two Porsche 919 Hybrids swap positions because the number 17 car is the faster one at that point of time. Bernhard hands over the leading car to Mark Webber after 115 laps, and now slick intermediate tyres are the call. After 132 laps Webber changes to pure slick tyres and continues to lead the race. At the end of lap 154 Webber comes for his last refuelling stop and gets another set of slick tyres. He then drives directly behind Romain Dumas until the sister car has to refuel – and number 17's way to victory is clear.
"What this team has done in such a short period of time is just incredible," said Mark after the race. "I have been involved in some pretty professional motor sports projects and I must say it is impressive to come to this level and have this results this year. It's really hard to produce these cars and this top performance week after week. The constructors' title is great for Porsche and everyone was working hard. Racing for these guys is amazing."
Race result 6 hours of Shanghai (CN):
1. Bernhard/Hartley/Webber (DE/NZ/AU), Porsche 919 Hybrid, 169 laps
2. Dumas/Jani/Lieb (FR/CH/DE), Porsche 919 Hybrid, + 26.294 seconds
3. Fässler/Lotterer/Tréluyer (CH/DE/FR), Audi R18 e-tron quattro, + 30.311 sec
4. Di Grassi/Duval/Jarvis (BR/FR/GB), Audi R18 e-tron quattro, + 50.906 sec
5. Wurz/Sarrazin/Conway (AT/FR/GB), Toyota TS040 Hybrid, 4 laps behind
6. Davidson/Buemi/Nakajima (GB/CH/JP), Toyota TS040 Hybrid, 5 laps behind
FIA World Endurance Championship (WEC), points after 7 of 8 rounds,
Drivers:
1. Bernhard/Hartley/Webber (DE/NZ/AUS), Porsche 155
2. Lotterer/Tréluyer/Fässler (DE/FR/CH), Audi, 143
3. Dumas/Jani/Lieb (FR/CH/DE), Porsche, 113,5
4. Di Grassi/Duval/Jarvis (BR/FR/GB), Audi, 91
5. Davidson/Buemi (GB/CH), Toyota, 67
6. Tandy (GB), Porsche & Oreca, 66,5
7. Bamber/Hülkenberg (NZ/DE), Porsche, 58
8. Nakajima (JP), Toyota, 55
Manufacturers:
1. Porsche, 308
2. Audi, 238
3. Toyota, 137
6 Comments
Add comment
LATEST EVENTS
Abu Dhabi Grand Prix
November 19/20
Mark attends the 2022 Formula One Grand Prix season finale in Abu Dhabi with Channel 4