Porsche 919 Hybrid takes another win in Texas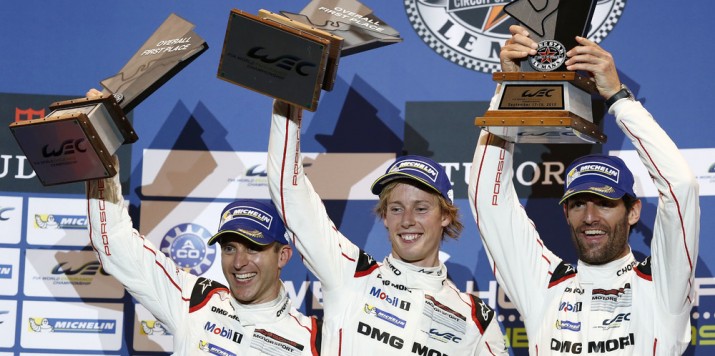 In Austin (US) the Porsche 919 Hybrid achieved its third win in a row. Drivers Timo Bernhard (DE), Brendon Hartley (NZ) and Mark Webber (AU) won the six-hour race in the Texan capital. It was the fifth of eight rounds of the 2015 FIA World Endurance Championship. The sister car of Romain Dumas (FR), Neel Jani (FR) and Marc Lieb (DE) was leading for a long time, but after a technical problem the car only finished fifth in its class. Austin brought the fourth victory in total for the Porsche 919 Hybrid after its maiden win at Interlagos in 2014 and Le Mans and Nürburgring in 2015. With its success in the heat of the night at the Circuit of the Americas, Porsche extended its lead in the manufacturers' standings in the World Championship with 220 points ahead of Audi (184).
On the 5.513 kilometre long demanding Formula One track Mark Webber (car number 17) had taken the lead from his team mate and pole setter Neel Jani (car number 18) right after the start. The number 17 car stayed in the lead for the first 116 of the 185 race laps until it lost it to the sister car due to a 60 second stop and go penalty. The number 18 car was able to defend the lead until 35 minutes before the chequered flag. A problem with the 12 volt onboard circuit caused a long pit stop. Nevertheless a one-two in qualifying, the fastest race lap (1:47.436 minutes by Brendon Hartley on lap 118) and another win again proved the Porsche 919 Hybrid's potential.
How the race went for car number 17:
Mark Webber starts from P2 and overtakes Neel Jani in turn one. After 28 laps the Australian pits for the first time and hands over the car to Brendon Hartley. After 57 laps Webber takes over again. When he comes in for his second pit stop after 88 laps, he overshoots the spot in the pit lane and needs to be pushed back. Timo Bernhard jumps in for a double stint and continues leading. After 116 laps he has to take a 60 second stop and go penalty and continues in second position behind the sister car. After 119 laps Timo comes in for the regular pit stop and stays in the car. After 148 laps Brendon takes over again. After a final splash and dash on lap 171 he brings the winning car home.
"I had a super start, got the braking point for turn one perfectly right and passed Neel," said Mark after the race. "Everything went really well except for my second pit stop. In this very wide pit lane I overshot our garage. When it comes to double stints – Timo is the man. Hats off."
Race result 6 hours of Austin (USA):
1. Bernhard/Hartley/Webber (DE/NZ/AU), Porsche 919 Hybrid, 185 laps
2. Fässler/Lotterer/Tréluyer (CH/DE/FR), Audi R18 e-tron quattro, 1:06.840 min
3. Di Grassi/Duval/Jarvis (BR/FR/GB), Audi R18 e-tron quattro, 1 lap
4. Davidson/Buemi/Nakajima (GB/CH/JP), Toyota TS040 Hybrid, 2 laps
12. Dumas/Jani/Lieb (FR/CH/DE), Porsche 919 Hybrid, 17 laps
FIA World Endurance Championship (WEC), after 5 of 8 rounds,
Drivers:
1. Lotterer/Tréluyer/Fässler (DE/FR/CH), Audi, 113
2. Bernhard/Hartley/Webber (DE/NZ/AU), Porsche 103
3. Dumas/Jani/Lieb (F/CH/D), Porsche, 77.5
4. Di Grassi/Duval/Jarvis (BR/FR/GB), Audi, 67
4. Tandy (GB), Porsche & Oreca, 66
5. Bamber/Hülkenberg (NZ/DE), Porsche, 58
Manufacturers:
1. Porsche 220
2. Audi 184
3. Toyota, 101
3 Comments
Petra

on September 20, 2015

Reply

Congrats Mark & team ! Great achievement!

Alisha

on September 20, 2015

Reply

Great race. I thought the penalty was a bit excessive, 1:30, yikes. Glad they were able to come out ahead in the end, even though it was at #18 expense.
Regardless, the win was well deserved.

michael bareham

on October 1, 2015

Reply

Good on you mark and team Only wish we got television of your racing in oz Keep flying the flag mate
Add comment
LATEST EVENTS
Le Mans
July 12-14
Mark will be with the C4 crew again, this time at Silverstone for the British Grand Prix - their only live race of the season. Don't forget to tune in.