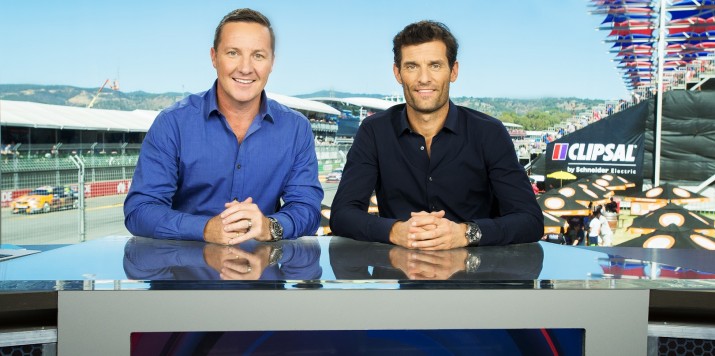 Having spent over 20 years in the public eye, Mark is certainly not short of experience in front of a camera. The perspective however slightly changes if you are suddenly the one sticking the microphone under someone's nose and talking the TV viewers at home through what's happening on track.
Mark got his first taste of commentating with Australia's Channel TEN at last year's F1 Grand Prix in Melbourne. He returned to Australian TV screens at the end of last month as part of TEN's expert panel at the season opening round of the V8 Supercars at the Clipsal 500 in Adelaide
It was the first V8 Supercar race Mark had been to in 15 years and while in his day job as a professional racing driver Mark is used to tight answers and short bites, he appreciates the extra air time he's got on his hands now in his expert pundit role: "I have more time to talk and I can actually go a little bit more into detail with my answers and give the viewers an insight into the mind of a racing car driver and what they are going through in long distance events.
"Preparing for a broadcast is certainly not as intense as the preparations for a race but still as nerve wrecking as it's not something I do that often. Obviously I feel a lot more natural and therefore more confident talking about F1 as I've known the sport for so many years. I didn't have much experience with the V8 Supercars so I had to do a little bit of homework beforehand. The Channel Ten guys were awesome, they have a lot of talent on the floor and helped get me up to speed before I actually got on the front line."
And life on the front line of TV is certainly not as glamorous as many may think as there is an awful lot of work going on behind the scenes to produce what fans finally get to see on their screens:
12-13 hour long days in the studio with rehearsals, pieces to camera, outfit changes and meetings leave little time for anything else but the part that tested Mark the most was when the cameras began to roll.  "Once it finally came to crunch time after make-up, wardrobe, having the sound sorted and getting yourself ready, the biggest challenge for me was actually making sure I knew which camera to look at as there were so many! I was also told that TV takes about 10% off your energy levels so you have to be a bit over enthusiastic and you learn how to come across as best as you can and being your natural self."
The first V8 race of the season was packed with excitement and saw three winners in three races and a lot of action on and off the track with more than 280,000 fans attending over the weekend. "Our studio was based next to the main grandstand and we had a very good spot to see the crowd. Ahead of the weekend I got some insights from the drivers as it's useful to know how the tyres and the gearbox are working around the track and how they operate with the clutch and throttle on a lap."
Even with all the background information and research, being an expert pundit isn't always straightforward, as he also takes over the translator role trying to package the on-track action in a way for the viewer to understand.
"You're calling it as you see it basically. I have heard commentators commentating on my driving and my race and of course they don't have all the information at hand. It's obvious you don't know the whole scenario when you see something and you need to try and explain that to the viewers as well. That's something you learn as a driver too when you're listening to commentators talking about you compete and you think, wow that's how they've seen and read it but actually that's not really what's going on at all!"
Having been interviewed for many years, Mark knows only too well that often there's tricky questions that need to be asked. But the key is in the approach.
"It's not so  easy to come up with a question that hasn't been asked before. Sometimes you need to grab opportunities off the back of the driver's initial answer and go in with a second question or asking in a different way to get more information out of them I think I can go pretty hard and ask decent questions especially from the driving side because they know it is probably a bit harder to bullshit me than someone else that hasn't been in that environment!"
As Mark gets more involved in the TV side of motorsport, the question remains how he watches a race from the armchair and whether he commentates to himself. "When you're commentating and giving your opinion you're watching a race through different eyes and you need to have some strings to your bow and think about how to relate that to the viewer. I obviously don't need to do that when I am sitting on my sofa at home."
Leaving aside motorsport, which other sport would be able to lure Mark behind the mic?
"Outside of motor sport it would probably be cycling. I know a little bit about road cycling, cross country and mountain biking as I love doing that myself but I would definitely need to do a lot of homework…"
For now though Mark will be back in the commentator seat this weekend for the F1 season opener in Melbourne.
2 Comments
Bert Moonen

on March 16, 2015

Reply

Well done on an incredible job of commentating the OZ F1. Your F1 knowledge and background information was a great insight into the F1 scene, and you got interviews that other could not.
I look forward to you seeing you backing up again next year.
( Pity about Dan, he squeezed the max out of a good car with a dog of an engine)

Peter Marr

on March 16, 2015

Reply

What an absolutely fantastic job Mark did ofthe Tensport coverage of F1 in Melbourne. We went all four days and then caught up with his comments late Sunday night. Thanks for taking us where we don't get to go, thanks for continuing Aussie grit !
Add comment
LATEST EVENTS
Abu Dhabi Grand Prix
November 19/20
Mark attends the 2022 Formula One Grand Prix season finale in Abu Dhabi with Channel 4