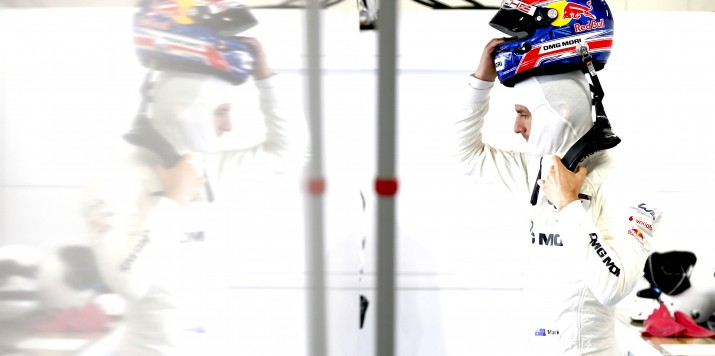 When you are hurtling around a race track at 200mph, you have to have your wits about you. Throw some four-hour non-stop stints into the mix in races that can last a whole day and night and the task looks even more daunting. But that's what driving in the World Endurance Championship is all about.
Mark spoke to redbull.com what  it takes to compete at this level and how he trains his mind for the extreme mental fatigue of a race like the 24 Hours of Le Mans:
How important is mental preparation prior to an endurance race like Le Mans for example?
It is very important. You have to be pretty relaxed and calm every time you get into the car, understand what the scenarios are that could be thrown at you, and think about the best way to deal with those while driving on the limit.
Do you have any special exercises, routines, visualisation techniques etc?
I do some where you practice to put your mind into a scenario before you get into the car. That gives you a chance to stimulate the mind and run through the scenarios which could happen. Visualisation is particularly important during qualifying in a short run, where you have to imagine what challenges you might be faced with, and try to prompt some of these micro decisions before you have to do them for real.
Is there a mental barrier to break competing in a six hour WEC race?
I think the preparation is absolute crucial. If you've had poor preparation, which could be from your hydration strategy or from being distracted getting into the car, there can be areas that will then get into your mind while you're driving, and these distractions will affect your performance.
Do you have any examples of when your mental focus has been the primary factor in you winning or losing a race?
When I won the F1 race in Monaco in 2012, I was under extreme pressure. I was leading towards the end of the race and was on slick tyres with Fernando [Alonso] and Nico [Rosberg] behind me giving me a lot of pressure and in that situation my composure was crucial. I broke the race down into the remaining laps and did not take the whole picture on immediately because there was still quite a bit to go.
Are there any particular circuits that fill you with dread, and require extra mental preparation, as well as focus during the event?
I think on street circuits you are aware that at any point during the weekend you can be involved in an accident. Generally with street tracks, the conditions change the most because they aren't purpose built, and the asphalt, the grip level, and the confidence you get is changing throughout the weekend.
There are a lot of factors you need to be aware of all the time, and you need to be very tactical to give yourself the best position, whether that's qualifying or certain positions on the track. Street circuits have an added dimension of managing risk.
How much of a role does the mind play in going the distance in an endurance race? When are you at the most vulnerable from a mental fatigue point of view?
There are two areas in a 24-hour race. If you've done, for example, a 3hr40/3hr50 stint, you need to keep the focus and concentration up and make sure you're staying alert and not getting too blasé with the situation. You have to treat the whole stint with the ultimate respect.
The next challenge that could expose you to mistakes is how alert you are coming back from a rest. If you've managed to get a little bit of sleep and come back out, you feel a bit flat, but then you have to try to get yourself up and alert and get the concentration up before you get back into the car. 
How difficult is it to deal with people's high expectations of you?
You have a huge amount of trust in yourself and in your preparation. I'm still learning in the WEC category but I've got a wealth of experience, and I know I'm looking to make the best decision for myself and the team. 
After the drama of a race, and when the adrenaline is ebbing away, how do you wind down and get your mind off the track?
If I'm still travelling, I'm chilling out at the hotel, listening to some music, watching sports, and maybe doing a bit of light training. At home, I spend time with my family, my dogs and enjoy normal life.
What motivates you to achieve your goals?
Throughout my teen years and in my twenties, motivation was not an issue. When you get a little bit older, and you're doing a lot of travelling and looking after your diet for 11 months, year after year for 12 or 13 years, then you start to look at other things which give you more satisfaction or more enjoyment. Things like sleeping in a bit more, loosening your dietary requirements a bit, craving little shortcuts. That all comes under the motivation banner because you're maybe not as hungry as you were.
Now I have a slightly lighter schedule, but I still have a chance to compete at a top level, which I love doing. I love being accountable and pushing myself, and I'm still learning new scenarios. Your motivation and approach to the hunger for your success will move a lot throughout your career.
I am now in a position where I have a lot of experience and where I'm enjoying driving these quick cars. This new environment is very rewarding for me and racing is still something I love doing.
2 Comments
Xenia Tondo

on May 27, 2015

Reply

Mark, I would be thrilled you wrote me a fan día.Soy yours forever and now you're in love Porsche I like mucho.Me attend Le Mans but now I can not, I wish you the best of mundo.Porfa can spend five minutes yours to me.

Petrus

on May 28, 2015

Reply

Mark, I would like to think that our discussions inspired you to publish this article. Looking forward to your next event. Stay sharp!

Petrus
Add comment
LATEST EVENTS
Abu Dhabi Grand Prix
November 19/20
Mark attends the 2022 Formula One Grand Prix season finale in Abu Dhabi with Channel 4