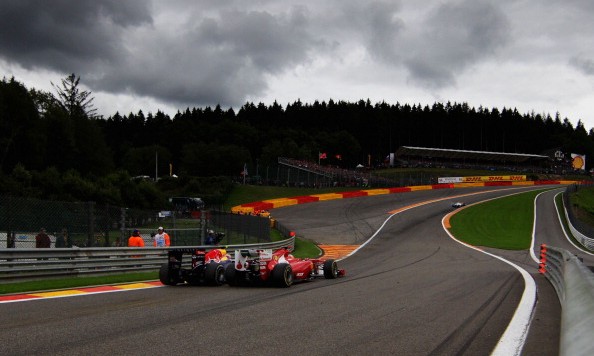 A favourite for many drivers, Spa has provided for some exciting racing in the past. Here's what makes it special for Mark.

A classic track

It's one of my favourite circuits and just oozes character. Some sections are very steep which is not a feature commonly seen on new track designs. The undulations make it a mighty impressive track and give you a great sensation of speed through some of the sections like the blindness on top of Eau Rouge, coming back through the middle sector through Pouhon, the fast double left and back towards the bus stop, which has changed quite a lot over the last years.
My move on Alonso in Eau Rouge in 2011

When Fernando exited the pits, I had a little bit of run on him; we both were in a position to get to the bottom of Eau Rouge pretty evenly and I was pretty keen to grab that first. Also I wanted to make sure I had the middle sector to myself because traditionally we were a bit stronger there so I wanted to get the move done at the bottom and in the end we went through it together. There was an immense trust between the pair of us with the super high speed and very narrow entry point at the bottom of Eau Rouge. I think it was a great display of accurate driving and we both got through and on this occasion I came out on top.
History

I remember watching a one particular race over and over again, it was Michael Schumacher's first victory in 1992 at the Belgian GP. There was always a pretty good atmosphere when Michael was racing because he had a lot of German fans coming over the border and it was a huge crowd. He won by being incredibly tactical with picking the right tyres at the right time. It was raining but he drove an incredible race. It was a fantastic GP on a great track with classic old onboard footage and for a young boy like me it was great to watch.
Unpredictable weather

I've had a lot of tough experiences with the weather around Spa. The track is in the Ardennes mountains and surrounded by an extensive forest which seems to have its own micro-climate and can generate sharp shower bursts at any time. There can be conflicting information between the pit wall and the driver because you can have it raining and drying at either end of the track. It's a long lap and very challenging with the conditions and picking the right tyres. Rain spotters are vital there.
First international win

Spa is where I had my big international win back in 1996. I won in the European Formula Ford Championship having raced David Terrien a French guy who was very quick and it was a big thing for me to beat him. That win was a massive step for me outside of Australia and the UK.
Add comment
LATEST EVENTS
Abu Dhabi Grand Prix
November 19/20
Mark attends the 2022 Formula One Grand Prix season finale in Abu Dhabi with Channel 4