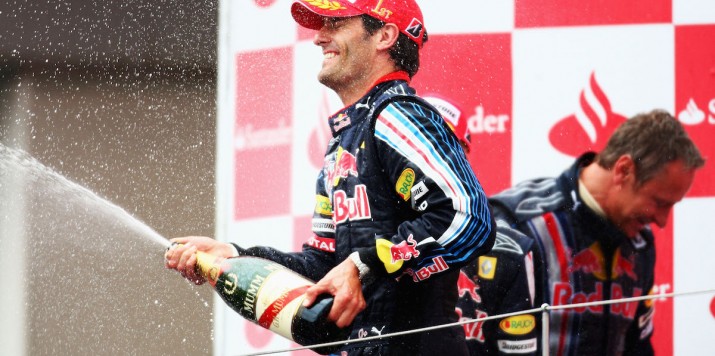 during the German Formula One Grand Prix at Nurburgring on July 12, 2009 in Nurburg, Germany.
The track in the Eifel mountains bears some great memories for Mark – here is what makes it so special for him:
First podium with Red Bull Racing and first F1 win in 2009
The Nuerburgring will always bear great memories for me as I scored my first Red Bull Racing podium in 2007 and of course I won my first Formula One race there two years later. I had claimed pole on Saturday, my first ever in F1 and the first time an Aussie driver had claimed pole since Alan Jones in 1980. In the race on Sunday Rubens and I went side-to-side coming up to the first corner and made contact for which I later received a drive-through penalty. I managed to recover well and took back the lead halfway across the race and drove it home. It was such a special day for me and to win it in the style that we did was incredible.
History and character
The track is enjoyable to drive. It's been there for over 30 years so it's got some history of its own and it has quite a lot of character. There are some camber changes and a lot of undulations, which makes it interesting. I look forward to see how the 919 hybrid is faring around there compared to the F1 cars. The weather in the Eifel mountains is often unpredictable and conditions change quick so you need to stay alert and make swift decisions.
Nordschleife
I've not done a huge amount of driving there, probably around 25 laps in total. The most enjoyable time I've had there was with the GT3 4-litre when Porsche invited me to drive the car there with some friends back in 2012 which was awesome.
It's an extreme piece of tarmac, very unforgiving and dangerous in certain sections. It's the hardest track in the world to tame and continues to deserve the ultimate respect from any racing driver. Stefan Bellof holds the lap record sub 7 minutes with the Rothmans Porsche around there. I can only imagine what he went through – it takes incredible bravery and commitment.
I last drove the Nordschleife earlier this year for a photoshoot with Red Bull in the new 911 GT3 RS. It was lava red and an absolute weapon and it was great fun taking it around there.
Germany
When I drove for Mercedes in their sportscar program back in the late nineties I did a fair bit of commuting over to Germany and also lived there for a while when I raced with Bernd Schneider. The motorways over there are a joy to drive, especially when I'm visiting Weissach and I get to take one of the 'pool cars' out – it's great for the car to be able to stretch its legs. I must admit though I've got myself into a pickle on more than one occasion over the years… I've also picked up a bit of the language and like to think I can get by – or at least order a drink on my own.
Fans and old school motorsport
We've always stayed at the hotel near the track and you feel the good atmosphere. It's old school motorsport in many ways as the track is tucked into the mountains and fans had to be committed to visit this race. The weather also wasn't always glitz and glamour but the fans hung in there with the barbie going at nine in the morning! That place has seen some action back in the day with massive crowds and there is still a lot of character. The fans are extremely passionate in this part of Germany and as it's also Porsche's home race I think the support is going to be pretty amazing for the team.
Add comment
LATEST EVENTS
Abu Dhabi Grand Prix
November 19/20
Mark attends the 2022 Formula One Grand Prix season finale in Abu Dhabi with Channel 4