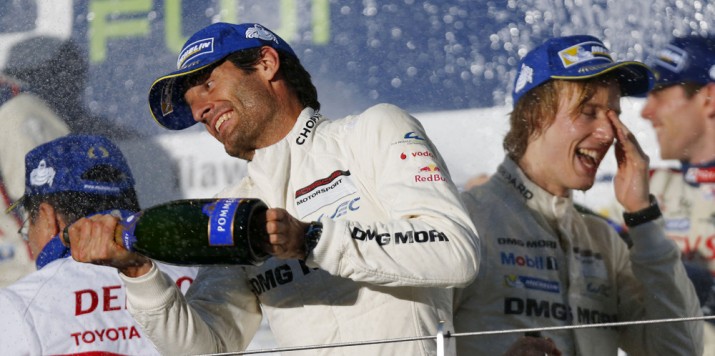 My first WEC race start
I hadn't been to Fuji since I raced there in F1 in 2008 but I really enjoyed my time there last year. It was my first WEC race start which was a great experience. Up until then I had done the individual bits like qualifying and finishing the race and I finally was able to put everything together. I had a really good battle with Sebastien Buemi at the start and during the first stint. We had some problems with the car later on and got a puncture but still managed to bring it home in third.
The circuit
I've always enjoyed the Fuji track, it's got some technical challenges which I like. It's a scenic and classic circuit with the traditional long straight and that's hard to re-enact on new tracks. The last sector is quite a challenge, car balance is important in the corners and also you have to get the technique on braking right to be able to put everything together.
Racing history
Japan is a motor sport crazy country – F1, Super GT, motor bike races and endurance racing – you see a whole variety of categories. When I grew up in Australia I watched the 8 hours of Suzuka as a lot of Australians rode in that race. The track in Fuji has seen some action over the years too with sportscar racing as far back as the 1960s and the World Sportscar Championship in the early 1980s.
Mount Fuji
Racing in front of Mount Fuji provides quite a dramatic backdrop. I definitely want to hike up Mount Fuji as I have a lot of friends that have gone up there and told me how incredible the view is especially if you get to witness the sun rise.
Fans and presents
The Japanese fans are very passionate and emotional but in a very polite way. They love motorsport and appreciate us drivers and they're also very knowledgeable. We had a great welcome last year and even though it's Toyota's home race, we got a lot of support out there for Porsche.
Over the years I've received some nice gifts like lucky charms and flags with embroidery and messages from my Japanese fans. You can see it takes a huge effort to make these and I still have them at home.
Add comment
LATEST EVENTS
Abu Dhabi Grand Prix
November 19/20
Mark attends the 2022 Formula One Grand Prix season finale in Abu Dhabi with Channel 4