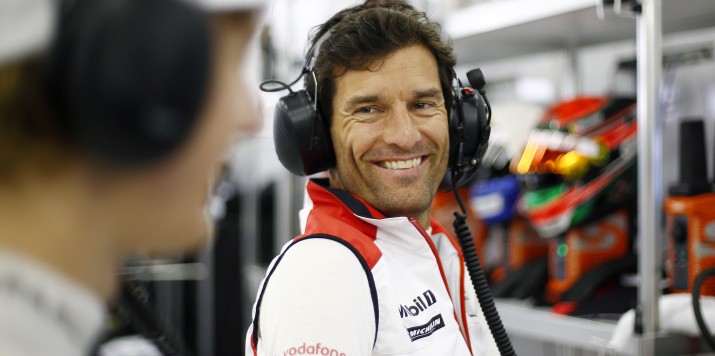 Porsche Team: Mark Webber
As the season draws to a close, Mark reveals his highlights of Bahrain.
200th F1 GP
When I left Australia, I never thought I would accumulate so many grands prix. I signed off at the end of 2013 having done 215 races and I never missed a session. I'm certainly very proud of my career in F1 and I've had some very special moments along the way.
Track
Bahrain is a test track and we do a lot of work there, it's a venue where we know the weather is very stable which is a bonus after the last two wet races in Asia. The track has its unique challenges with 4 high-speed stretches and slow speed corners, some of which are very tight. The wind conditions play a big role in Bahrain too with your top speed and also your cornering performance. It's a twilight race and during the course of the 6 hours we have a huge difference in track temperature.
Double podium for Porsche in 2014
Bahrain was never a happy hunting ground for me in F1 but we got a nice double podium there last year with both Porsches which was a big step for us.
Hospitality
The atmosphere with the WEC in the paddock and how the race promoters welcome us is great. They bend over backwards and make a huge effort for us. The evenings are nice and balmy and it's a pretty nice setting with the palms and middle eastern atmosphere.
Hotels and facilities
The hotels and restaurants are world class in Bahrain which make our stay very pleasant They have good sporting facilities and very clean gyms which is important for me. We had some good fun on the tennis courts with the Grand Prix drivers over the years.
3 Comments
Scott Hewitt

on November 18, 2015

Reply

Best of luck for the weekend mate! #AussieGrit

Ann Pantalleresco

on November 21, 2015

Reply

YOU DID IT A World Champion. So so happy for you and your team mates. But especially YOU ❤ Enjoy this unbelievable achievement

Greg Lamb

on November 25, 2015

Reply

Congratulations Mark, it's been a long time coming,but we all knew that there was world championship in you mate,would have loved the look on all the unfaithful, ignorant heads off the non believers. Show how good we know you are by winning the next 2,3,4 W.E.C. Really proud to see that Aussie grit kicking Europes Arse in a more pure real racing category. P.s,love the comments on the former team mate…Go You Bloody Good thing… AUSSIE, AUSSIE, AUSSIE!!!
And may you endeavour to Kickers!
Add comment
LATEST EVENTS
Abu Dhabi Grand Prix
November 19/20
Mark attends the 2022 Formula One Grand Prix season finale in Abu Dhabi with Channel 4