Mark secures World Endurance Drivers' Championship title with Porsche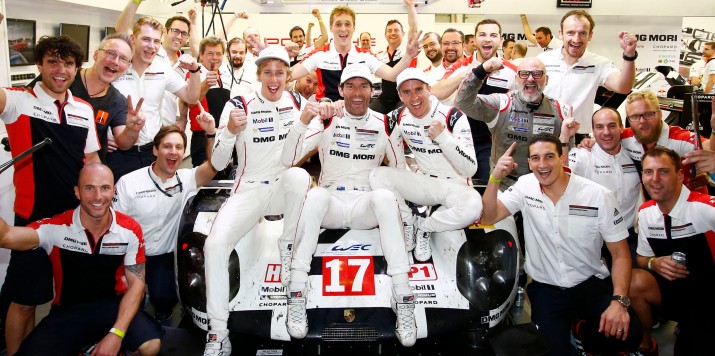 Porsche has concluded the FIA World Endurance Championship (WEC) in Bahrain by taking the sixth consecutive race win and the second title this year. For Timo Bernhard (DE), Brendon Hartley (NZ) and Mark Webber (AUS) fifth place in the six-hour race was enough to win the drivers' world championship. Romain Dumas (FR), Neel Jani (CH) and Marc Lieb (DE) took their long awaited first race win this season with the second Porsche 919 Hybrid.
The eighth and final WEC round was a thriller, and this also applied to the drivers' championship battle. Bernhard/Hartley/Webber had started with a 13-point lead ahead of the best placed Audi trio. Given the great season Porsche had had so far with the Le Mans victory and the early win of the manufacturers' title, it looked possible to win the drivers' title in Bahrain. But half an hour into the race the number 17 car had to come into the pits for a long repair stop. After that the trio had to go flat out to catch up from the very back of the pack, and eventually they finished fifth. It was the sister car that took the lead and the crucial points away from the Audi.
How the race went for car number 17:
Start driver Timo defends the lead up to lap 16. On lap 17, nearly half an hour into the race, he radios in that he has a loss of engine power and pits. The mechanics fix an engine actuator problem in 8 minutes 43 seconds. Timo rejoins the race four and a half laps behind the leader. The leader had completed 52 laps when Timo comes in for his first planned stop, still four laps behind but back in the top ten in the 32 car field. Brendon takes over the big job of catching up on fresh tyres. After 83 race laps – 79 for his car – he comes in for fuel and tyres and remains in the car. At the end of lap 114 (110 for car number 17) Brendon hands over to Mark Webber, who continues in fifth because the number 8 Audi has had a long stop for repairs. He pits for fuel and fresh tyres after 144 laps. After race lap 158 (154 for the car) Mark is called in for another unscheduled pit stop with an actuator problem. He rejoins the race without losing a position. After 183 laps he has his final splash and dash, before he crosses the line in fifth – and becomes world champion.
"Today clearly shows the qualities of the team," said Mark. "We have had some very smooth days this year, but we executed the victories with clinical precision. Today was about fighting as hard as possible. You saw the spirit of the mechanics; you saw the spirit of the drivers. I cannot thank the mechanics enough. The pit stops we had in the garage were extremely stressful. It's amazing that we were able to win the world championship under pressure like this. I am so proud to be world champion with Timo and Brendon and with Porsche. It was 1986 when Derek Bell managed this the last time. It was a massive day for the team!"
Race result 6 hours of Sakhir (BAH):
1. Dumas/Jani/Lieb (FR/CH/DE), Porsche 919 Hybrid, 199 laps
2. Fässler/Lotterer/Tréluyer (CH/DE/FR), Audi R18 e-tron quattro, + 1:25.310 min
3. Wurz/Sarrazin/Conway (AT/FR/GB), Toyota TS040 Hybrid, 3 laps behind
4. Davidson/Buemi/Nakajima (GB/CH/JP), Toyota TS040 Hybrid, 3 laps behind
5. Bernhard/Hartley/Webber (DE/NZ/AU), Porsche 919 Hybrid, 9 laps behind
6. Di Grassi/Duval/Jarvis (BR/FR/GB), Audi R18 e-tron quattro, 11 laps behind
FIA World Endurance Championship (WEC), points after 8 of 8 rounds,
Drivers:
1. Bernhard/Hartley/Webber (DE/NZ/AUS), Porsche 166
2. Lotterer/Tréluyer/Fässler (DE/FR/CH), Audi, 161
3. Dumas/Jani/Lieb (FR/CH/DE), Porsche, 138,5
4. Di Grassi/Duval/Jarvis (BR/FR/GB), Audi, 99
5. Davidson/Buemi (GB/CH), Toyota, 79
6. Wurz/Sarrazin/Conway (AT/FR/GB), Toyota, 79
7. Nakajima (JP), Toyota, 75
6. Tandy (GB), Porsche & Oreca, 70,5
7. Bamber/Hülkenberg (NZ/DE), Porsche, 58
Manufacturers:
1. Porsche, 344
2. Audi, 264
3. Toyota, 164
10 Comments
Add comment
LATEST EVENTS
Abu Dhabi Grand Prix
November 19/20
Mark attends the 2022 Formula One Grand Prix season finale in Abu Dhabi with Channel 4