Good test day for the three Porsche 919 Hybrids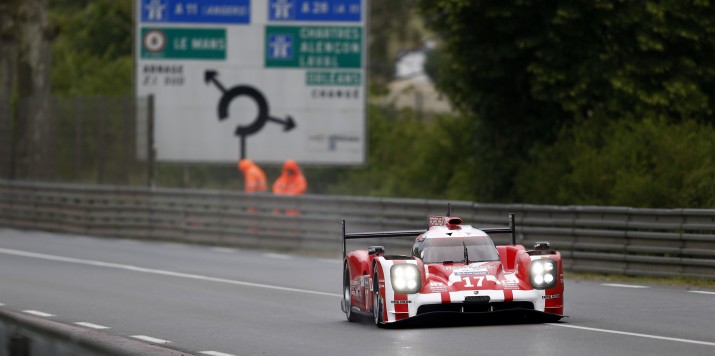 The official pre-test on Sunday in Le Mans was as busy as it was positive for the Porsche Team with its three 919 Hybrids. This day provides the only opportunity to test on the 13.629 kilometre long Circuit de la Sarthe. More than nine kilometres of the track consist of what are normally public roads. In total, the nine drivers sharing the three cars, which are carrying future technology with their power system of over 1000 HP, completed 124 laps. Porsche works driver Brendon Hartley (New Zealand) set the fastest lap time of the 67 cars taking part in the pre-test. He lapped the circuit in 3:21.061 minutes during a dry period in the afternoon. As a comparison: In 2014 the fastest 919 driver in qualifying was Romain Dumas (France) with a lap of 3:22.146 minutes, which back then was good enough for P2 on the grid (last year's pole time: 3.21,789 min/Toyota). Changing weather conditions in the West of France provided the team with challenges regarding set-up work, but also with the opportunity to test on a dry, a damp and a fully wet track.
Andreas Seidl, Team Principal: "Certainly the test programme was somewhat limited because of the changing weather conditions. For reliable tyre evaluation I'm sure all the teams would have wished for a consistently dry track, as tyre wear will be a decisive factor in the race. It was important that all three Porsche 919 Hybrids were running all day. Our new drivers completed their mandatory ten laps to be allowed into the race, and this included Frédéric Makowiecki in the 919 Hybrid. As far as you can judge from the lap times, we will see very tight competition among the front runners. As expected, everyone was faster compared to 2014. Now it is important to look carefully at the huge amount of data we have gathered today. It was a great team effort to prepare so well for this test day and make the maximum use of it. Also it was another exercise for us to handle three cars."
"It was a very busy test day and it is amazing how much we are still learning in what is our second appearance in Le Mans," said Mark. "We knew we would have some rain today, but still all three of us had time in the car when it was dry. Anyway for me it was very beneficial to drive in the rain as well, because I didn't have much experience with a wet track here."
1 Comment
Khaled

on August 21, 2015

Reply

Good luck Mark
Add comment
LATEST EVENTS
24 Heures du Mans
June 14-16
Mark will be supporting Porsche in the build up to the gruelling 24 hour race.