Convincing kick-off for Porsche 919 Hybrids in Texas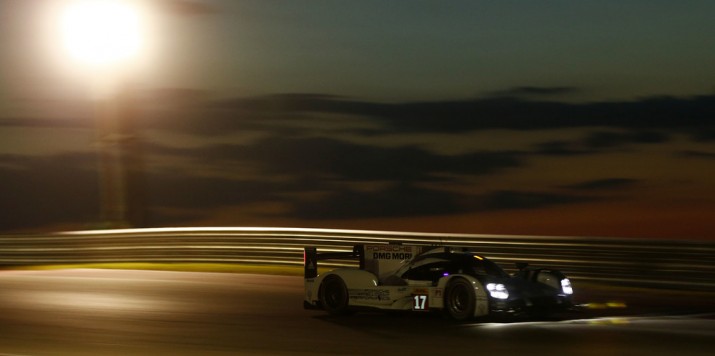 The Porsche Team had a promising first day of practice before the fifth of the eight rounds of the FIA World Endurance Championship (WEC) in Austin, Texas (US). In both the two 90-minute free practice sessions on the spectacular 5.513 kilometre long Grand Prix circuit a Porsche 919 Hybrid has topped the time sheets. After the first session took place in the afternoon with track temperatures way over 40 degrees Celsius and ambient temperatures in the mid thirties, the second session was held after sunset. Each of the drivers had to complete five mandatory laps in the dark.
In the first session the number 18 Le Mans Prototype of Romain Dumas (FR), Neel Jani (CH) and Marc Lieb (DE) was the fastest car on track with a lap time of 1:47.231 minutes. Second fastest was the number 17 sister car, shared by Timo Bernhard (DE), Brendon Hartley (NZ) and Mark Webber (AU), which lost some track time towards the end of the session after a problem with the front axle. Their best lap time was 1:47.514 minutes.
In the slightly cooler night session, but with ambient temperatures still 31 degrees Celsius, Bernhard/Hartley/Webber were fastest (1:47.442 min) with Dumas/Jani/Lieb coming third (1:48.268 min).
The Porsche Team's clear target in Austin is to defend its lead in the manufacturers' World Championship. After two one-two results in Le Mans and at the Nürburgring, Porsche currently has a tally of 184 points, followed by Audi (151) and Toyota (89). LMP1 qualifying will be held on Friday from 18:15-18:35 hrs local time (Saturday 01:15-01:35 hrs CEST), with the race starting on Saturday at 17:00 hrs local time (00:00 CEST).
"The car is very good at COTA, and the homework we have done between the events has been really good," said Mark. "The performance and speed were good straight away. In FP1 we had to stop early, just when we wanted to begin with the set-up work. It is quite unusual for us to have the car in the garage during a session. FP2 was very beneficial in helping the drivers and engineers check everything in night conditions."
1 Comment
Petra

on September 18, 2015

Reply

Keep going strong Mark & team! Good luck for the race!
Add comment
LATEST EVENTS
Abu Dhabi Grand Prix
November 19/20
Mark attends the 2022 Formula One Grand Prix season finale in Abu Dhabi with Channel 4