Aussie Grit: My Formula One Journey – signed edition out now!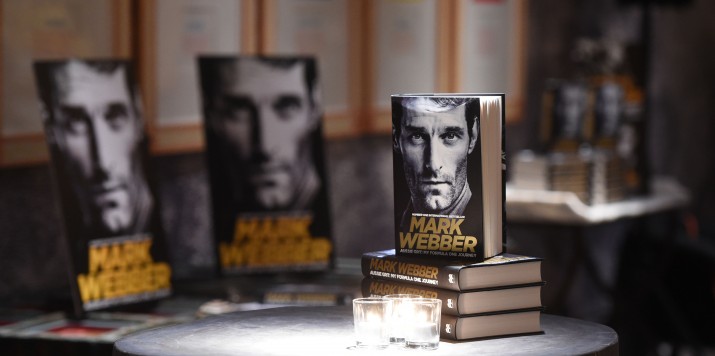 Missed out on the signed Australian version in July?  Haven't been able to attend a book signing?  Now is your chance to get your hands on a signed copy of Mark's international best-selling autobiography, currently available to purchase from the markwebber.com online shop!
We have 200 copies of the UK version of Mark's autobiography 'Aussie Grit: My Formula One Journey' (with signed bookplates inserted) up for grabs – 100 available to customers in the UK, and 100 to customers in the rest of the world.  Judging by how quickly the Australian signed editions sold out (we're talking hours), we suggest visiting the SHOP now to place your order!
Due to the limited number available, orders are restricted to one per customer.

***************************************************
Got a question about buying the book?  Please read through the following FAQ's we've answered for you:
What do you mean by 'UK version' and 'Australian version'?
Mark's autobiography launches today (September 10) in the UK, and was published in Australia on July 1.  There are minor differences.  The front covers and the forewords are different – the UK foreword is by three times F1 World Champion Sir Jackie Stewart and the Australian foreword is by cricketing legend Steve Waugh.  Also the title differs slightly – in the UK it is 'Aussie Grit: My Formula One Journey' in Australia it's simply 'Aussie Grit'.
Will you ship to my country?
The short answer is yes.  We ship to all countries, so it's a case of first in, first served. If you are outside of the UK you must select from the 'Rest of the World' option in the drop-down menu.
I'm trying to purchase a copy of Aussie Grit from the website but keep getting an error message?
You could be trying to purchase the wrong version of the book.  You have two options in the 'customer location' drop-down menu – 'UK' or 'Rest of World'.  You must select the one that matches your location and this will be verified by the shipping address you provide.  If you are selecting the correct version but are still get an error message, the books may have sold out.
Can I purchase other items from the shop at the same time as a copy of Aussie Grit?
Yes you can.  But please note that the book will arrive separately to your other purchases.
The numbers are very limited, what if I miss out?
Although Mark's Australian and UK book tour signings are now over (the last one is in London today – Sep 10 – at 5pm) and we don't plan to have any further signed editions available via the shop, do keep an eye on Mark's website and social media channels as you never know if a competition will run or an event might be taking place in the future where signed copies will be up for grabs.
I live in [insert your country], where can I purchase an unsigned copy of Aussie Grit?
Aussie Grit is available from all good bookstores and online retailers in the UK and Australia in both hardcover and e-book formats.  At this stage it is not due to be published in any other country or language.  If you live outside of these countries and want to purchase a copy of Aussie Grit some of the online retailers (such as Amazon, Waterstones [UK] and Dymocks [Aus]) ship worldwide.
If your question isn't answered above, please contact the shop HERE and we'll do our best to get back to you – but please bear with us while we're busy processing orders!
10 Comments
Site Manager

on September 14, 2015

Reply

Hi there – unfortunately we have sold out of signed books, sorry!

Site Manager

on September 15, 2015

Reply

Hi Sara – sorry, at this stage we don't plan to have any more signed copies in stock. Do keep an eye on Mark's website and social media channels though, as there may be opportunities to win signed copies in the future.
Add comment
LATEST EVENTS
Abu Dhabi Grand Prix
November 19/20
Mark attends the 2022 Formula One Grand Prix season finale in Abu Dhabi with Channel 4