Aussie Grit: My Formula One Journey – now available in the UK!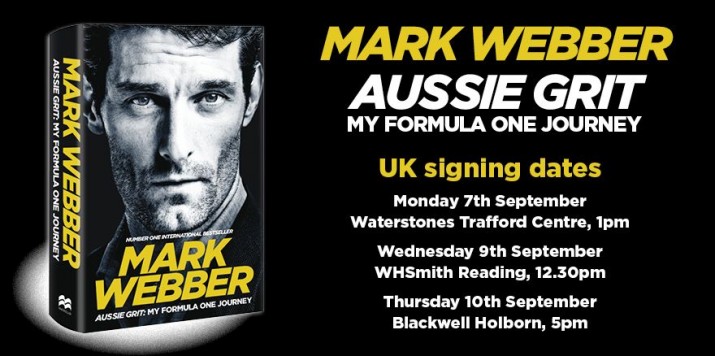 Two months after hitting the shelves in Australia, Mark's number one best-selling autobiography 'Aussie Grit: My Formula One Journey' has arrived in the UK.  Due to be released on September 10, Aussie Grit is available to pre-order now and there are opportunities for you to get a copy signed in person.  Here's a little teaser taken from the UK jacket:
In his trademark straight-talking, no-nonsense style Mark reveals his amazing life on and off the Formula One race track. From his first taste of karting to his F1 debut in 2002, scoring Minardi's first points in three years at the Australian Grand Prix, through to his first win with Red Bull at the 2009 German Grand Prix and the year he should have been crowned World Champion. Mark Webber's journey to the top of Formula One was every bit as determined and committed as his racing. This is his searingly honest story.
So how can I get my hands on a copy of Aussie Grit?
Aussie Grit: My Formula One Journey (the UK title), is out on September 10 in hardcover and e-book in the UK.  Published by Pan Macmillan, Mark's eagerly anticipated and already internationally best-selling autobiography will be widely available from all good book stores and online retailers and is available to pre-order now.
What if I don't live in the UK?
Aussie Grit has already been published in Australia (July 1) and is still available to purchase there, however if you're outside of Australasia or the UK, you can purchase the UK version in hardcover or Kindle format via Amazon and have it shipped or delivered to wherever you are.
What are the differences between the UK and Australian versions?
They are minimal.  The front covers and the forewords are different – the UK foreword is by three times F1 World Champion Sir Jackie Stewart and the Australian foreword is by cricketing legend Steve Waugh.  Also the title differs slightly – in the UK it is 'Aussie Grit: My Formula One Journey' in Australia it's simply 'Aussie Grit'.
Will you be selling any signed copies of the UK version via the markwebber.com shop like you did with the Australian version?
We certainly will.  There will be a very limited number of signed books available via the markwebber.com shop – full details will be available via the shop soon.

Are there any opportunities for me to meet Mark in the UK and get my book signed in person?
Yes!  Mark is doing a very small number of signings in the UK as follows:
Monday, September 7 – Manchester, 13.00hrs at Waterstones Trafford Centre
42 Regent Crescent, Barton Dock Road, Manchester M17 8AP
Wednesday, September 9 – Reading, 12.30hrs at WHSmith Broad Street
39 Broad Street, Reading RG1 2AD
Thursday, September 10 – London, 17.00hrs at Blackwell, High Holborn
50-51 High Holborn, London WC1V 6EP
The public signing dates are before Aussie Grit is published in the UK, how will I get a copy in time?
The stores that are doing the signings will stock early copies of Aussie Grit specifically for you to purchase on the day to have them signed by Mark.

Any further questions?  Please contact the shop (details here) who will try to help answer any queries you have.
27 Comments
Add comment
LATEST EVENTS
Australian Grand Prix
April 8-10
Mark joins Channel 10 in Melbourne as the Australian Grand Prix returns after a two year hiatus.