Aussie Grit, by Mark Webber (signed edition) – available from the shop now!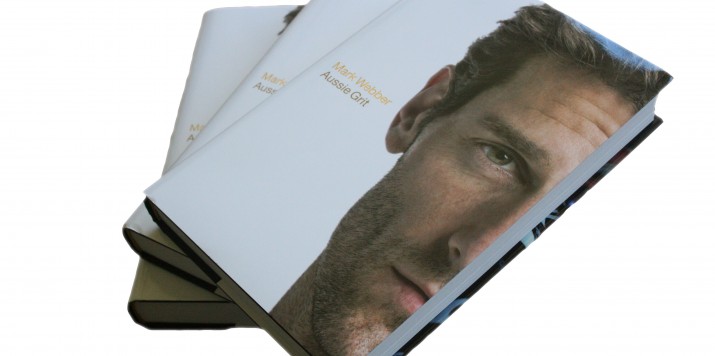 Eighteen months after retiring from a twelve year Formula One career, Mark Webber finally tells the story of his journey from Queanbeyan kid to Grand Prix winner – and in typical 'Aussie Grit' style, it's a no holds barred, searingly honest account of life inside and out of the cockpit.
The moment you've all been waiting for has arrived…Signed copies of Mark's autobiography Aussie Grit are now available to purchase from the markwebber.com online shop!
We only have 250 copies of the Australian version of Aussie Grit (with signed bookplates inserted) up for grabs – 150 available to customers from within Australia, and 100 to customers in the rest of the world.  Visit the SHOP now to place your order before they're gone!
Due to the limited number available, orders are restricted to one per customer.
Got a question about buying the book?  Please read through the following FAQ's we've answered for you:
What do you mean by 'Australian version'?
Aussie Grit was published in Australia in July 1, and will be published in the UK in September.  The only differences between the two versions will be the front covers and the forewords – the Australian foreword is by cricketing legend Steve Waugh, and the UK foreword is by three time F1 World Champion Sir Jackie Stewart.
Will you ship to my country?
The short answer is yes.  We ship to all countries, so it's a case of first in, first served. If you are outside of Australia you must select from the 'Rest of the World' option in the drop-down menu.
That's not many, what if I miss out?
All is not lost if you miss out on a signed copy this time!  The UK version will be out for general purchase in hardcover and e-book in a couple of months' time (September, as mentioned above) and we plan to do the same again (i.e. have a limited number of hardcover copies with signed bookplates sold via the e-shop), so there'll be another chance to get your hands on a signed copy of Aussie Grit.
I'm trying to purchase a copy of Aussie Grit from the website but keep getting an error message?
You could be trying to purchase the wrong version of the book.  You have two options in the 'customer location' drop-down menu – 'Australia' or 'Rest of World'.  You must select the one that matches your location and this will be verified by the shipping address you provide.  If you are selecting the correct version but still get an error message, the books may have sold out.
Can I purchase other items from the shop at the same time as a copy of Aussie Grit?
Yes you can.  But please note that the book may arrive separately to your other purchases.
I live in Australia, is there a chance to get a book signed by Mark in person instead?
Yes indeed.  Mark is currently in Australia on his book promo tour and will be doing a number of talks and signings.  Visit HERE to see the schedule.
If your question isn't answered above, please contact the shop HERE and we'll do our best to get back to you – but please bear with us while we're busy processing orders!
5 Comments
Avril

on July 11, 2015

Reply

Oh noes, I'm in Adelaide the very day Mark is in Sydney (where i live). Don't know how I managed that – but I already have the book and am loving it!! Highly recommend for anyone interested in F1 and who followed that part of Mark's career.

Marcus

on July 28, 2015

Reply

Hey guys,

Just wondering if there are going to be any more signed copies released? If so, rough dates?

Cheers,
Marcus

Peter Putterill

on September 7, 2015

Reply

Any book signings by Mark in the UK ?
Add comment
LATEST EVENTS
Monaco Grand Prix
May 23-26
Mark will be behind the mic as the UK's Channel 4 cover the highlights of this prestigious race.