Aussie Grit by Mark Webber – Out Now!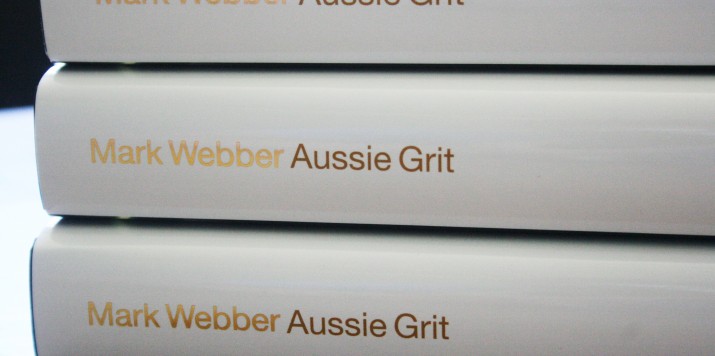 Eighteen months after retiring from a twelve year Formula One career, Mark Webber finally tells the story of his journey from Queanbeyan kid to Grand Prix winner – and in typical 'Aussie Grit' style, it's a no holds barred, searingly honest account of life inside and out of the cockpit.  Here's a little teaser from the jacket:
In the high-stakes world of Formula One, only the fastest make it to the top. Few know this better than Australian Formula One legend Mark Webber. His career in F1 stretched an incredible 12 years, saw him earn 42 podium finishes and triumph in nine races, including twice-winning the crown jewel of F1, the Monaco Grand Prix.
 But the road to the top of F1 racing is long and full of deadly twists and strange turns. In his long-awaited Autobiography, Webber tells the incredible true story of the small town pizza delivery boy who climbed the apex of the world's most dangerous sport. With startling candour, Webber takes us on a thrill ride through the highs and lows of his amazing career, detailing the personal struggles that drove him, revealing the truth at last behind his rivalry with Red Bull Racing teammate Sebastian Vettel, and allowing us access-all-areas into a very private life played out on the public stage.
 Filled with anecdotes about the great drivers, epic races and characters of Formula One, Mark Webber: Aussie Grit is a fascinating account of a life in the cockpit of an F1 rocket and the inspiring, no-punches-pulled story of a great, gritty Australian.
So how can I get my hands on a copy of Aussie Grit?
Aussie Grit, is out today (July 1) in hardcover and e-book in Australia.  Published by Macmillan Australia, Mark's eagerly anticipated autobiography will be widely available from all good book stores and online retailers.
What if I don't live in Australia?
Don't worry, Aussie Grit is also being published in the UK!  The UK version will be published in September 2015 by Pan Macmillan UK in hardback and e-book too.  It too will be available in all good book stores and across all digital platforms.
Are there any differences between the two versions?
Yes, but they are minimal.  The front covers and the forewords will be different – the Australian foreword is by cricketing legend Steve Waugh, and the UK foreword is by three time F1 World Champion Sir Jackie Stewart.
Will you be selling any signed copies via the markwebber.com shop?
We certainly will.  There will be a very limited number of signed books available via the markwebber.com shop – 150 in Australia and 100 for the rest of the world.  It will be the Australian version and they will each have a signed bookplate inserted.  They will be restricted to one book per order – full details will be available on the shop soon.

UPDATE: the signed copies of Aussie Grit on the markwebber.com shop have already sold out – keep reading for more options to get your hands on a signed copy.
That's not many, what if I miss out?
All is not lost if you miss out on a signed copy this time!  The UK version will be out in a couple of months and we plan to do the same again (i.e. have a limited number of copies with bookplates sold via the e-shop), so there'll be another chance to get your hands on a signed copy of Aussie Grit (that's the book, not the man…).  And then there's always the chance to meet Mark and get your book signed in person, which leads us to…
I heard Mark will be in Australia this month doing a book tour – is there an opportunity for me to meet him and get my book signed?
Yes!  The list of Mark's Australian book tour talks and signing dates are below.  (Mark's UK book tour dates will be confirmed in due course).
Australian book promotion schedule:
NSW: TALK – 09/07/2015 – 18:30
Mark Webber 'in conversation' cocktail party to be held at Sofitel Wentworth Hotel Sydney, through Dymocks city. Sofitel Sydney Wentworth, 61-101 Phillip Street, Sydney, NSW 2000
ACT: SIGNING – 10/07/2015 – 19:00
Dymocks Belconnen – Westfield Belconnen, Shop 159-160, Level 3, Benjamin Way, Belconnen, ACT 2617
NSW: SIGNING – 11/07/2015 – 11:30
Dymocks Penrith – Westfield Penrith, Shop 145, Level 1, 585 High Street, Penrith NSW 2750
WA: TALK – 13/07/2015 – 07:00
Crown Metropol 'Grand Ballroom' – The West Australian Leadership Breakfast with Dymocks Booragoon.  Mark Webber 'in conversation' about his autobiography 'Aussie Grit'. Crown Metropol Perth, Cnr of Great Eastern Highway & Boston Ave, Burswood, WA 6100
WA: SIGNING – 13/07/2015 – 12:30
Dymocks Garden City – Garden City Shopping Centre, Shop 33-34, 125 Riseley Street, Booragoon WA 6154
QLD: SIGNING – 15/07/2015 – 12:00
Dymocks Brisbane CBD – Queen Street Mall; 177 Albert St, Brisbane, QLD 4000.
VIC: SIGNING – 16/07/2015 – 12:30
Melbourne City – Dymocks Melbourne, Lower Ground Floor, 234 Collins Street, Boutique Place, Melbourne VIC 3000
VIC: SIGNING – 18/07/2015 – 11:00
Big W – Eastland Shopping Centre, 171-175 Maroondah Hwy, Ringwood VIC
QLD: SIGNING – 19/07/2015 – 11:00
Dymocks Carindale – Westfield Carindale (Centre Court) – 1151 Creek Rd, Carindale, QLD
Any further questions?  Please contact the shop (details here) who will try to help answer any queries you have.
102 Comments
Add comment
LATEST EVENTS
Abu Dhabi Grand Prix
November 19/20
Mark attends the 2022 Formula One Grand Prix season finale in Abu Dhabi with Channel 4