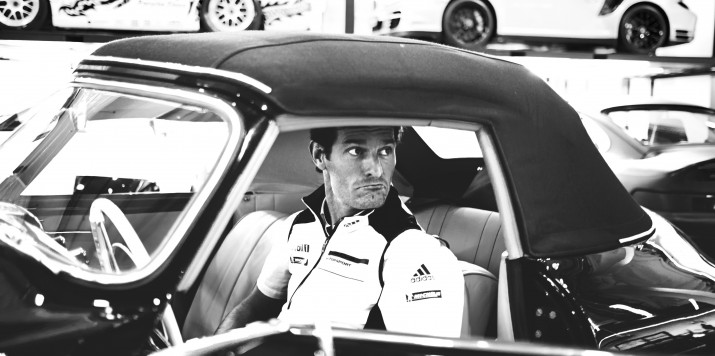 When you step through the doors of the impressive, state-of-art building next door to the  Dr. Ing. h.c. F. Porsche AG headquarters in Zuffenhausen, Stuttgart, you enter 140 years worth of Porsche's illustrious automotive history.
The Porsche Museum which opened in 2009, currently hosts a collection of some 80 vehicles which would make just about every car enthusiast and collector's mouth water! An array of legendary racing and sports cars, fascinating production models as well as unusual prototypes are displayed across several floors in the 5,600 square metre exhibition area so the question was where should Mark  look first when he visited the museum last year.
The best place is the beginning so he took a journey back in time to the early 20th century where he marvelled at the first attempts by Ferdinand Porsche before continuing the journey through the ages to the development of different racing cars up until the highly desirable road cars of today of which you wouldn't object to being parked up in your own drive. After seeing such a priceless collection of Porsche's under one roof, we asked Mark which models would make his list of all-time Porsche favourites.
356/1 from 1948 and Mark's own 356
'The 356s are classics: just timeless and they always turn heads. It was Porsche's first production automobile and was first built in Austria in 1948 before switching to production in Germany in 1950. It's such a dainty design; a nimble, lightweight little machine with a four cylinder rear engine and rear wheel drive although the 356 No. 1 Type on display in the museum is a mid-engine prototype. I'm very fortunate to have my own 356 which is kept in a safe place where it's well looked after and in mint condition. It's a 1954 1500cc blue azure Cabriolet (soft top) with a bent (centre-creased) windscreen which I just love the look of!'
917 from 1970 (long (L) and short tail (K))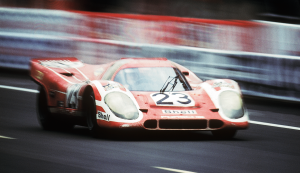 'The 917L was the first Porsche to win Le Mans in 1970 with Hans Herrmann and Richard Attwood in a wet race with only seven finishers! The fact that there were only two drivers per car in those days is impressive to say the least! With a car of this shape you can see it's been purposely designed for Le Mans 'long straights. It's very slick, very aerodynamic, it's super quick in a straight line and wasn't the easiest of cars for the drivers to handle with a lot of power and Mulsanne with no chicanes back in the day. The cars had an aggressive windscreen profile, they were low in general and famed for their high speeds and power – a true classic from the seventies. Of course the Porsche 917 became a star in its own right when Steve McQueen drove one in the 1971 iconic motor racing film, Le Mans.'
936 from 1976
'The 936 was built in 1976 to contest the WSC and the 24 Hours of Le Mans. Jacky Ickx, the Belgian sportscar ace who won Le Mans six times, four times as a Porsche driver, took the honours that year and repeated the feat with the 936 in 1977 and 1981. Porsche always had quite famous colour schemes and I loved the Martini colour on that car. Also the onboard footage is special because of the open cockpit. You can see how the rear wing is taking shape, it's got a massive air box and it's starting to go into the direction of the open wheel concept, with an open chassis.'
956 from 1982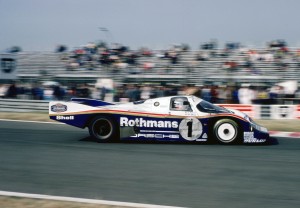 'The 956 Rothmans is my favourite Porsche racing car of all times. I remember seeing these cars vividly in motorsport magazines and on racing videos when I was a young lad growing up in Australia. This is another car completely designed for Le Mans and proved a worthy successor to the 936. It's incredibly low, very aggressive in its design with flat bodywork and it was dominant at Le Mans in 1982 when Ickx and Derek Bell won the race with the two other Rothmans liveried factory 956s following them across the line for a memorable 1-2-3 finish.'
953 from 1984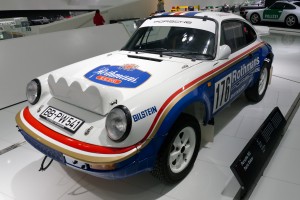 'Porsche's motorsport history wouldn't be complete without a very special model from the 1980s – the Porsche 953, which competed in the 1984 Paris-Dakar Rally.
The 953 was a heavily modified variant of the 911. It was especially designed and built for the demands of this cruel race with an extremely enhanced suspension and is sometimes referred to as the 911 4×4 .Out of the three which were entered into the Paris-Dakar Rally in1984, one took overall first place.'
911 GT1 from 1998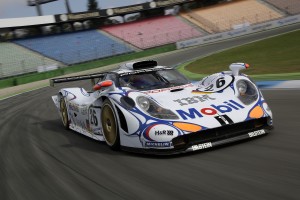 'When I first raced in sports cars I actually raced against this car in the 1998 FIA GT Championship so I know it very well! Although Mercedes CLK GTR had the measure of the 911 GT1 in the sprint races, it scored a great 1-2 victory at Le Mans with Laurent Aiello, Allan McNish and Stephane Ortelli in the winning car and Joerg Mueller, Uwe Alzen and Bob Wollek in the second car. It also gave Porsche its record-breaking 16th overall win at Le Mans;  a record that we're aiming to add to with the 919.
I' was lucky enough to drive the 911 GT1 car a few years ago at the Red Bull Ring in Austria. I remember it was a wet day but it still handled very well. A beautiful engine, lots of torque, it was very predictable and gives the driver a lot of confidence. Even in slippery conditions I really enjoyed driving the car. The gearbox was a bit heavy to be honest, it wasn't that easy compared to the CLK  I drove back in 1998.You can see now that the concept of the headlights was styled  towards Porsche road cars which was great as they tried to incorporate  the Porsche theme into their race car.'
918 Spyder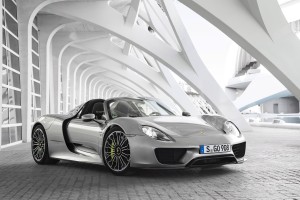 'This is a limited-edition car and it's already sold out! I've taken the Spyder 918 out for a spin on several occasions, it's a beautiful car and it uses the hybrid technology which I also have in my race car. It's mid-engined hybrid car powered by a 4.6 litre V8 engine with two electric motors to provide a combined output of 887hp! It's another show-stopper from Porsche!'
The Porsche Museum is open Tuesday's to Sundays 9am-6pm. Adult admission: 8 euros; children free up to and including 14 years of age.
3 Comments
Troy

on January 21, 2015

Reply

If you ever decide to sell the 356 let me know! It would be going to a loving home!

Brendon

on January 21, 2015

Reply

Amazing cars. Reading this makes me want to buy a Porsche!! Seven is not enough as you also need a GT3 4.0 in the list :-p

Roberto

on January 21, 2015

Reply

Mark: I am absolutely thrilled to see you happy, relaxed and your old self again! You truly are a gentleman and I'll never grow tired of watching you race or read your articles. F1 hasn't ruined you, and I'm very grateful you're now at Porsche.
Add comment
LATEST EVENTS
Abu Dhabi Grand Prix
November 19/20
Mark attends the 2022 Formula One Grand Prix season finale in Abu Dhabi with Channel 4