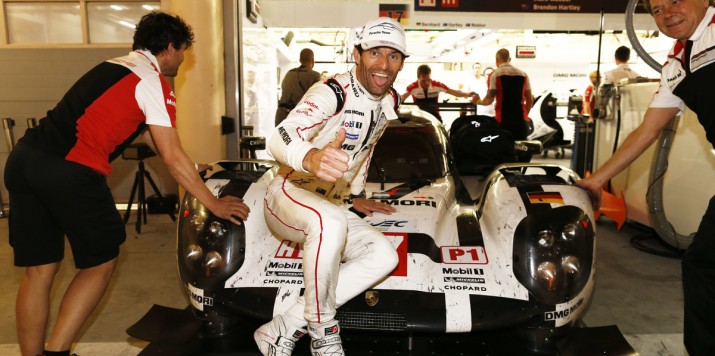 FIA WEC 2015: 6 Hours of Bahrain Porsche Team: Mark Webber
As the year draws to a close, Mark looks back at an exciting year on and off the track:
It's been quite an eventful and successful season, how do you feel about it now that you've had some time to reflect?
With the good results towards the end of last year, the writing was on the wall for a while that we could get some momentum but we couldn't quite execute it. We had a tough race at the start of the season in Silverstone where we had to retire from leading the race. It was a bitter pill to swallow and the championship was a long way away. Spa didn't quite go to plan but we managed to finish third. We knew we had to work hard to be more resilient for the duration of the races.
Going into Le Mans we had a few areas of concern. It's a very hard race to prepare and we were nervous. But the race showed that the team put in a phenomenal effort, the no 18 car had a few issues but the 17 and 19 cars ran seamlessly, and the cars finished very healthily.
We saw last year just how cruel that race can be. You just have to get over the line there and get that final lap done with no problem because there is a huge guillotine waiting there for you at any point. To have a one two there is just so hard to achieve and for me personally that was very rewarding. Audi was there with their A game, they've been very successful there before and we have tremendous respect for them. It was nice to take the fight to them and win fair and square and for Porsche to get that 17th record victory was absolutely brilliant.
After the summer break it was a clean sweep for Porsche taking victory in all the remaining races and also becoming Manufacturers Championship but not without a thrilling season finale:
The whole team has put in a phenomenal effort over the break to give us these cars. To come back from the break and to take my first sportscar victory at the Nuerburgring at Porsche's home race was great. I've had a lot of good results in the past, my first win in Formula One in 2009 and some good fights in 2012 with Lewis and Fernando. I really enjoy driving on that track and we had a clean weekend and managed to pull it off.
After the win in Germany we took three more back-to-back victories in Austin, Fuji and Shanghai and arrived with a small lead in Bahrain. A lot was in our corner but with Audi as a competitor, who are pushing hard, you can't put your feet up. We ticked the first box with putting the car on pole but nobody would have imagined the kind of challenge we would face in the race. It was pretty much 6 hours of fighting and managing an ill car. The team in the garage was incredibly focussed and did a tremendous job in such stressful conditions.
 It was a massive day for the team and I'm very proud to be a part of this little bit of history.
Has it sunk in yet that you're now a World Champion and how will you split the trophy with Timo and Brendon?
When we were presented with the trophy at the FIA awards in Paris it became more real! 
It's a huge team result, with the amount of effort that goes into these races. We had some tough moments together in the last few months so to finish the job off and to be a World Championship winning driver with Porsche is amazing. In my career I've had some very special moments and some beautiful GP victories in F1. It's not easy to win races and it's certainly not been an easy road for us this year.
Porsche is steeped in heritage and history of motorsport. They created this program back in 2011 and to win both the drivers and manufacturers' title in what is only our second year back in the sport against the likes of Audi is incredible and something I'm very proud of.
In terms of the trophy I believe there will be replicas for the three drivers and the original one will stay with the team.
You've mentioned your teammates Timo and Brendon, how has your relationship evolved and how are you finding the challenge of sharing a car now?
In this category it's an interesting dynamic with your teammates as you have to be extremely open. You have to get the strengths out of each other, work out what everyone likes and dislikes. I learnt a lot in my first year in sportscars last year especially off Timo, who has been instrumental in pulling us three together.
Also the way you work with the engineers is entirely different in this category, you spend much more time with them than in F1. You have to be much more open and constructive on how you can deal with everyone else's styles and getting them together can sometimes be frustrating for the engineers too.
Last year I wasn't entirely comfortable with the car, it wasn't that rewarding and we had a lot of things to improve. Coming from a much more aggressive mindset for 12 years it takes a lot of patience to accept certain things and it's even worse if you go to tracks that you've got so much knowledge on and you want to force it and squeeze more out of it. This year I have been able to contribute a lot more, get more out of it and my F1 experience really helped.
Do you feel you've fully arrived now in sportscar racing?
I'm enjoying it, it's the right time in my career to be racing in this category. I wouldn't have wanted to do it when I was 25 because I wanted to race in F1. I really enjoyed my time in F1 for a long while but when you get older you have to accept that it's not that easy to keep up the motivation to do 19 races a year with the testing and the media scrutiny; when you're close to 40 you have less energy for this. Now I have a good balance to work with Porsche which is a great brand, I also have great camaraderie with my team mates which I enjoy and I still get to drive the car on the limit which is great.
It's interesting times for sportscar racing. The LMP1 side is in really good shape but also if you look at the classes behind there is no shortage of young fresh talent coming up.
This year you've also brought out your long anticipated autobiography Aussie Grit, which has become an international bestseller.
It's great to see the book has been so well received. I had so many people message and tell me that they enjoyed the read. I think most people thought it was only going to be about my time at Red Bull and multi 21 but of course there is much more to my career, from my childhood back in Australia to where I am today. It's been a mountain of a process to get the book finished. We actually started all the research back in 2009 and Annie worked closely with my ghost-writer, Stuart Sykes, to bring it all together from the early days through to the junior categories to current day and proof reading it over and over again. It was a true trip down memory lane with all the old photos and putting yourself back into certain situations has brought back a lot of things you forget over time.
You've also added another gem to your car collection.
Yes an early birthday present to myself! I took delivery of a Porsche 918 Spyder just before the race at the Nuerburgring and took Timo out for a spin. It's a beautiful car and I love the look of it. The red design is related to the Porsche 917 Salzburg livery which I drove at Le Mans this year. I want to keep the mileage down but it's hard to keep her in the garage.
How will you spend your break before you're back to prepare for the next season?
I've not had much of a break yet as there have been quite a few commitments after the last race in Bahrain and I've added to my tally of air miles flying around the globe. But, I'm heading off to Australia to spend some time with my family and catch up with a few mates over the summer there.
2 Comments
Dr Christiaan Willems

on December 29, 2015

Reply

Congratulations Mark on a fantastic season. Choosing to get out of F1 when you did was the best move you could possibly have made. All the best for 2016.

debra hogan

on February 1, 2016

Reply

thinking of u always your book was a excellent read congratulations
Add comment
LATEST EVENTS
Abu Dhabi Grand Prix
November 19/20
Mark attends the 2022 Formula One Grand Prix season finale in Abu Dhabi with Channel 4