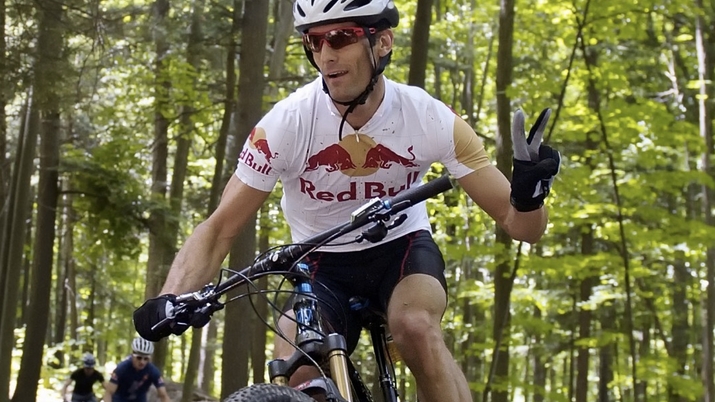 Cutting down from 20 to eight races in a season sounds like gaining a lot of downtime – and it would, if you weren't a competitive, driven, outdoor loving Aussie who can't quite sit still. Mark has a thirteen-week gap until the next race in Austin in September and he talks about the racing break, Wimbledon, the Football World Cup, mountain biking and why you should be careful of Kodak moments.
Mark, you've got eight races this year with Porsche, looks like a whole lot of spare time for you then?
Yeah I have, on paper! The racing schedule this year is definitely quieter to what I was used to and after Le Mans there is a two-month gap to the five remaining fly away races. It's nothing like the F1 schedule which I am happy about but we're still keeping busy doing stuff back at the factory in Weissach.
How do you fill your days in between racing?
I've had something going on pretty much every weekend since Le Mans. I went down to the Goodwood Festival of Speed, which is a world-class event, and the amount of people who go there is just unbelievable. I also went to the Austrian GP and had a few commitments there with Red Bull. It was great to see what Mr. Mateschitz has created, I've always liked the track there, its setting is just beautiful. Three weeks ago I went to Silverstone for the race and it was brilliant to be there when Mitch (Evans) won his first race in GP2.
In terms of my training this year there is certainly a little bit more enjoyment involved. I don't have to be as specific and can mix up the training a bit more with running and mountain biking and have more fun with it.
I also get to enjoy extended breaks with my family which wasn't the case over the last thirteen or fourteen years. It's gone from one or two days away here and there to one or two weeks which is very nice.
There have been some great events too this year already in the UK with Wimbledon and the Tour de France, have you seen much of it?
I went to Wimbledon twice which I really enjoyed. Rafael (Nadal) probably doesn't want me to go to any more of his matches though, because I watched him loose the final of the Australian Open with a sore back earlier this year and then he got knocked out by young Aussie Nick Kyrgios in Wimbledon. I watched Maria Sharapova playing and she got knocked out too, so that wasn't a good day. I also caught up with Lleyton Hewitt, who is a good friend of mine. He's had a tenacious, long career and is still playing well.
I followed a fair bit of the Tour de France too and I think it was absolutely brilliant that the event started in the UK. It was such a great atmosphere and was embraced very well by the fans all the way from Yorkshire to Cambridge and London where it finished, which was brilliant for cycling and also great for the UK. There were so many crashes, it's been very difficult to foresee now many of the big names are now out of the race which is a real shame as it would have been great to see all those guys still in the event when they hit the mountains.
And of course the football World Cup where Germany took home the trophy. Have you seen many happy faces back at the Porsche base?
I actually went to Weissach the Monday after Germany won the World Cup and it was great. I watched the news and saw the celebrations in Berlin with over 400,000 fans, crazy! Football wasn't my first sport growing up and it still isn't, but when you live in Europe you have no choice but to follow it. There has been some controversy here and there but in general it was a great event and a good final. Sometimes you can have some fizzes like the Germany-Brazil match was, which would have been a horrendous final to watch, not for Germany of course.
For Argentina to go so close that's how you probably want it, two great nations having a good crack at it. The Germans are just so fit and disciplined and that's what in the end got them over the line.
The Commonwealth games have just started in Glasgow, will you be following the Australian delegation?
The Commonwealth games are a big thing in Australia obviously, in certain countries like Germany it's not, but it certainly is on our radar. For Scotland to have such a big event is great and quite unique. I'm keeping an eye on Anna Meares in track cycling. She has had a phenomenal career and is such a great beacon leaving a great legacy on the sport even though she is still competing. And also we've got two mountain bike racers Dan McConnell and Bec Henderson racing who could give it a really good shake for some medals.
You are also competing away from the racetrack this year, what are you up to?
I'm going to enter into the Leadville 100, which is a 100-mile bike race in Colorado, not far from Aspen. The quirky thing with this race is, it's extremely high and the altitude is quite intimidating for a lot of people that are competing. It starts at around 3,000 metres and the highest point is around 4,300 metres; it's a long way up.
I'm under no illusion that it's going to be a tough day and that after a few hours of riding I will not be in a comfortable situation.
I hope the visibility is good and I would like to at least be able to see some stunning, phenomenal landscape and very dramatic scenery so that even though I'm going to be in pain, at least I can look at some amazing stuff. But if it's slashing down with rain, and it's closed in on top of the cloud that would make it even tougher. My nutrition and hydration are going to be very important, I hope I have an appetite on the day in the altitude as sometimes it's easy to loose that when you're that high.
What's the attraction and why did you choose this race?
I've got some really good friends who I've known for a long time and they've actually convinced me to do it. It's been on my radar for five or six years but F1 has always been in the way. I've always said to my mate Morris who lives in Austin and who's been doing it nearly every year, that when I stop F1 I will do it with him, so we're giving it a crack. I started to get in reasonable shape around Monaco F1 GP time where I spent a few weeks in the South of France. You need some good saddle time to get yourself specifically ready for the bike, but more importantly into the mountain bike position, which I will still fine-tune when I get to Colorado. I've also been mixing it up with running, as logistically it's not always been that easy with the biking when I'm racing. The altitude is going to be the biggest unknown.
You've obviously competed in outdoor events before and in your own challenge in Tasmania. How do you think this is going to benefit you?
It will help me with the patience factor. In the challenge I've had 13-hour days over a five-day event. This is a one day race and you can probably go a little bit harder, but all the basics in the lead up like eating and having good sleep as well as making sure you're on the start line with no injuries, no niggles and all your preparation is going well, have to be spot on. You have to be mindful with the bike not to get any what we call 'Kodak' moments early on, where you get carried away in the first couple of hours. You need to be focussed on being in good shape right until the end.
Where does your love for cycling come from?
I was properly introduced to it when I came to Europe, nearly 15 years ago. At first I just couldn't get my head around why someone would ride a road bike on the road when you can drive the car. But I worked out that it's actually quite enjoyable and when you get in reasonable shape you can really get on riding some pretty spectacular places. And there is a social element too as when you're riding with a bunch of mates you can talk, where other sports sometimes don't offer that. And with mountain biking of course there is a little bit of adrenaline involved too and you need to be highly focussed and concentrate when you're riding around trees and rocks.
6 Comments
Add comment
LATEST EVENTS
Abu Dhabi Grand Prix
November 19/20
Mark attends the 2022 Formula One Grand Prix season finale in Abu Dhabi with Channel 4