Mark's statement about Sir Jack Brabham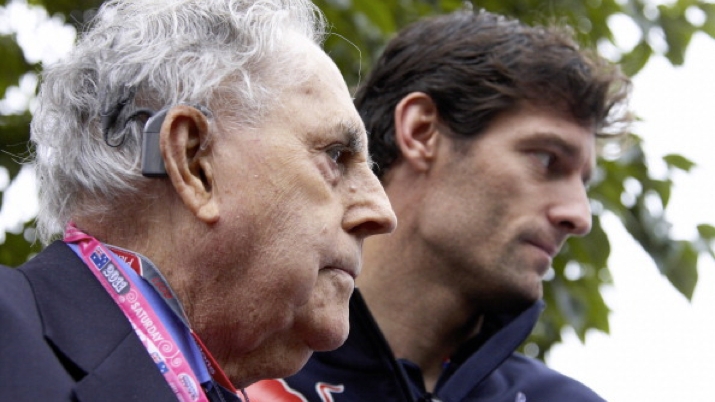 I was saddened to hear the news of Jack's passing today – he is the epitome of a champion racing driver and a true blue Aussie. He was a trailblazer; he took the hardest road and made it easier for the rest of us to follow. When I think of Jack, I think of a tenacious individual; an absolute grafter; he did it his own way and made it stick. There were no real rules or a manual for Jack; he figured it for himself.  What he achieved taking on the best in the world and winning one of his three world titles in his own machinery is the stuff of pure legends.
On a personal note, Jack was simply the biggest name in the Webber household. He was inspirational. My dad followed his career from when he raced in Australia and then did his best to keep track of Jack's progress when he moved overseas to take on the best in the world.
I was very fortunate that I was introduced to Jack before I left Australia and to be in his presence as a 17 or 18-year old as I must have been at the time, just blew me away. He provided me with endless support and advice over the years and became a close confidante  – even right up until the last couple of years when, after hearing the rumours that I might move to Ferrari, he told me he would be very disappointed if I went there because for him, it was the absolute betrayal because they were his motivation – the ones he wanted to beat in his day!
Jack and Margaret were always generous with their time and I'm proud that, although I was unable to repay that support by joining him and Alan Jones as world champions, I gave him some very happy moments by winning some of the more prestigious special Grands Prix.
To Margaret, Geoff, Gary and David and their respective families, you are very much in our thoughts at this sad time. Jack was a legend in the truest sense of the word, an inspirational Aussie battler and someone who will never be forgotten.
ends//
42 Comments
Add comment
LATEST EVENTS
Abu Dhabi Grand Prix
November 19/20
Mark attends the 2022 Formula One Grand Prix season finale in Abu Dhabi with Channel 4