MARK'S RETURN TO ALBERT PARK
Despite announcing his retirement from Formula One racing, Mark Webber will be back on track at Albert Park during Australian GP week.
The Australian driver will take to the track on two feet when he helps to launch the Champion Edge program with a track run around the Grand Prix circuit on Tuesday 11 March at 5pm and will be joined by a crowd of students.
"It's been 12 months since I've been on the Albert Park circuit but instead of being behind the wheel of an F1 car, this year I'll be lining up on the grid in my running shoes with a group of energetic teenagers," Mark said.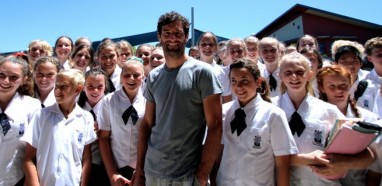 Champion Edge is a new motivation and education program with a focus on health and fitness for 13-16 year old Australians. The program was developed by leading educators, health & fitness experts and motivators and is designed to inspire teenagers to find their own formula for success in life through motivational seminars, social media community, physical challenge events and an online learning tool.
"The 2014 Formula 1® Rolex Australian Grand Prix will provide a fantastic backdrop to launch this initiative and I'm sure all the teenagers who are involved will enjoy the experience.
"It's going to be very different for me to be back in Melbourne during the Australian Grand Prix week and not racing, but I'm looking forward to completing a lap around the circuit, albeit at a slower speed."
To find out more about the program and how students can join Mark at Albert Park for the run:
http://www.grandprix.com.au/champion-edge-australian-gp-track-run
http://championedge.com.au
Ends//
7 Comments
Add comment
LATEST EVENTS
Abu Dhabi Grand Prix
November 19/20
Mark attends the 2022 Formula One Grand Prix season finale in Abu Dhabi with Channel 4