Mark sets fastest lap of the day with the Porsche 919 Hybrid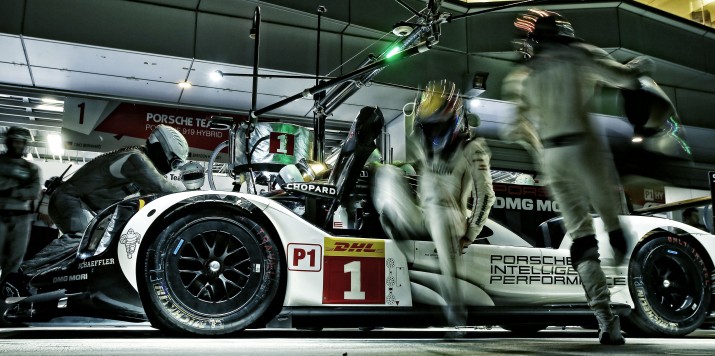 On the first day of practice for the seventh out of nine rounds of the FIA World Endurance Championship Mark Webber set the fastest lap of the day with the Porsche 919 Hybrid. The Australian lapped the 4.549 kilometre long Fuji International Speedway during a qualifying simulation on Friday afternoon in 1:24.074 minutes. In constantly dry conditions and with ambient temperatures around 20 degrees Celsius, he and his teammates Brendon Hartley and Timo Bernhard covered 95 laps in total today. In the first session the reigning world champions were sixth (1:26.097 minutes).
The trio of Romain Dumas, Neel Jani and Marc Lieb lost nearly an hour of track time for repairs during the first of two 90-minute practice sessions, and clocked up 64 laps. On the installation lap in the morning an oil leak occurred and the gearbox for the front axle's electro motor needed to be changed. The championship leaders came fourth in both sessions (1:25.962/1:25.078 minutes).
"Today there were beautiful dry conditions for all of us," said Mark. "The competition looks really tight with Toyota and Audi. In the afternoon I did a qualifying simulation and it went okay for me. It was a pretty competitive lap time, but on the long runs it also looks really tight. We expect more homework for tomorrow and a brilliant fight for qualifying."
LMP1 qualifying will be held on Saturday from 14:30-14:50 hrs local time. The six-hour race starts on Sunday at 11:00 hrs (04:00 hrs in central Europe).
Add comment
LATEST EVENTS
Abu Dhabi Grand Prix
November 19/20
Mark attends the 2022 Formula One Grand Prix season finale in Abu Dhabi with Channel 4