Porsche 919 Hybrids to start one, two and three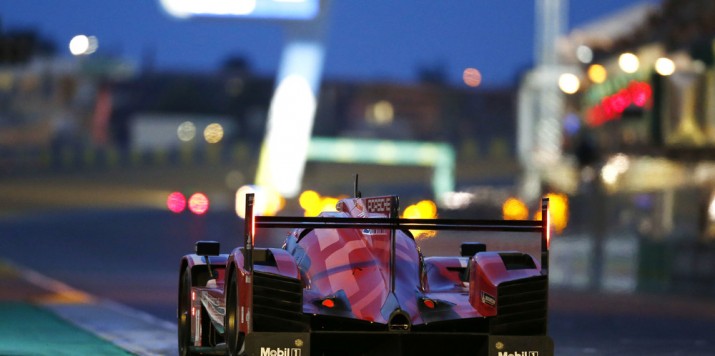 On Saturday at 3pm the Porsche Team will start the 83rd Le Mans 24-Hours from one, two and three on the grid. This is the 17th pole position for Porsche in Le Mans, and prior to this the most recent one dates back to 1997. Furthermore it is the ninth time since 1968 that three Porsche race cars have locked out the front of the grid for the Le Mans 24-Hours with a one-two-three. This happened last in 1988.
Switzerland's Neel Jani did his fastest lap time during the first qualifying session on Wednesday night and, despite dry conditions in both qualifying sessions on Thursday, it remained unbeaten. With his lap of 3:16.887 minutes, he has set a new qualifying record for the current track length of 13.629 kilometres by beating Peugeot's pole position time from 2008 (3:18.513 min). Timo Bernhard (GER) was second fastest on Wednesday and his time of 3:17.767 minutes was also good enough to beat the old record. In the third Porsche LMP1 Nick Tandy (GBR) improved his lap time in Q2 on Thursday to 3:18.862 minutes and claimed P3.
Jani shares the black number 18 Porsche 919 Hybrid with Romain Dumas (FR) and Marc Lieb (GER). Bernhard partners Brendon Hartley (NZ) and Mark Webber (AUS) in the red number 17 car. Tandy's team mates in the white number 19 prototype are Earl Bamber (NZ) and Formula One driver Nico Hülkenberg (GER').
Starting drivers on Saturday will be Timo Bernhard, Neel Jani and Nico Hülkenberg.
The three Porsche 919 Hybrids are the most innovative in the 56 car field and carry future technology for Porsche's road going sports cars. The revolutionary technical regulations' focus on efficiency for class 1 Le Mans prototypes (LMP1) attracted Porsche in 2014 to return to top level motorsport. The combination of a two-litre, V4 turbo charged and petrol fuelled engine with two energy recovery systems (brake energy and exhaust energy) produces a power system of around 1000 HP.
1 Comment
stuart H

on June 13, 2015

Reply

Best wishes for the 2015 Le Mans race to Mark and all the Porsche 919 hybrid team.
Add comment
LATEST EVENTS
Abu Dhabi Grand Prix
November 19/20
Mark attends the 2022 Formula One Grand Prix season finale in Abu Dhabi with Channel 4