One-two result for Porsche 919 Hybrids – championship lead extended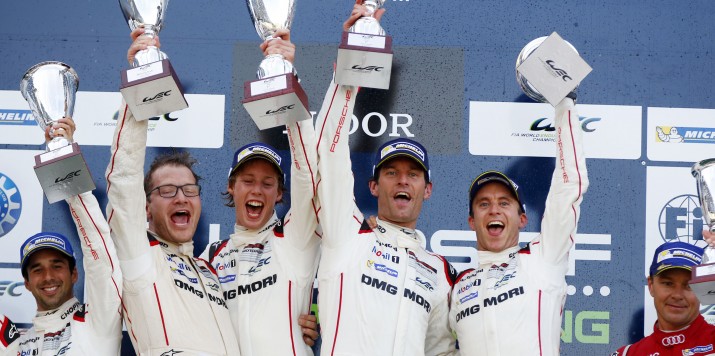 Andreas Seidl, Teamchef Porsche Team, Brendon Hartley, Mark Webber, Timo Bernhard (l-r)
The Porsche Team claimed a one-two result in front of a great crowd at the fourth round of the FIA World Endurance Championship (WEC) at the Nürburgring. The trio of Timo Bernhard (DE), Brendon Hartley (NZ) and Mark Webber won the six-hour race in temperatures of more than 30 degrees Celsius. Right behind them the sister Porsche 919 Hybrid of Romain Dumas (FR), Neel Jani (CH) and Marc Lieb (DE) came second. Over the weekend 62,000 people created a fantastic backdrop for the first German WEC race.
After the Porsche 919 Hybrid's maiden victory at last year's finale in Brazil and the recent one-two result at Le Mans in 2015, this is the third major success for the young team and the prototype's ground-breaking hybrid technology. For the driver line-up, which includes former Formula One driver Mark Webber, it is the first and long hoped for WEC race win. With this dream result Porsche has extended its lead in the manufacturers' world championship and is now lying 33 points ahead of Audi and 95 ahead of Toyota.
With the relatively short and twisty 5.137 kilometre long circuit and the numerous classes going at different speeds, the race was action packed with thrilling lapping and overtaking manoeuvres. The way the car of Dumas/Jani/Lieb finished second was full of stories. After starting from pole, they lost the lead in the first half of the race because of long stop-and-go penalties after a technical problem. While the team usually changed drivers at every fuel stop at the Nürburgring, Neel Jani stayed in the car for 76 laps, which was two and a half stints. It was also Jani who recorded the fastest race lap at the Nürburgring with a time of 1:37.955 minutes.
How the race went for car number 17:
Timo started from P2 behind the sister car. During a "Full Course Yellow" he lost around ten seconds because of slow lapped cars between him and the leading car. Later a damaged nose cone disturbed the aero, which is why the team decided to stop early. After 24 laps Timo handed over to Mark, who continued with a new front. Eventually having dropped back to P6, Mark overtook the number 7 Audi on lap 40 to be second again behind the sister car. After 56 laps Mark handed over to Brendon, who took the lead on lap 64 when car number 18 was penalised. After 89 laps Timo took over the leading car to hand it to Mark again after 123 laps. During a Full Course Yellow after 144 laps Brendon jumped in again. After 175 laps Mark took over for the final stint and brought the car home to take the victory.
"Achieving the second one-two after Le Mans is great for our team," said Mark."This is my first Porsche victory and, of course, it is a big day for Brendon, Timo and myself, and it is always a team effort. The two of them were awesome, we had no technical issues and took an important step by improving our performance on shorter tracks. Traffic was sometimes brutal today, but we made it."
1 Comment
Patty

on September 1, 2015

Reply

Congratulations Mark to you & your team on a great win. Very happy for you. Bet this was a happy belated birthday present.
Add a reply
LATEST EVENTS
Australian Grand Prix
April 8-10
Mark joins Channel 10 in Melbourne as the Australian Grand Prix returns after a two year hiatus.