Both Porsche 919 Hybrids on front row for home race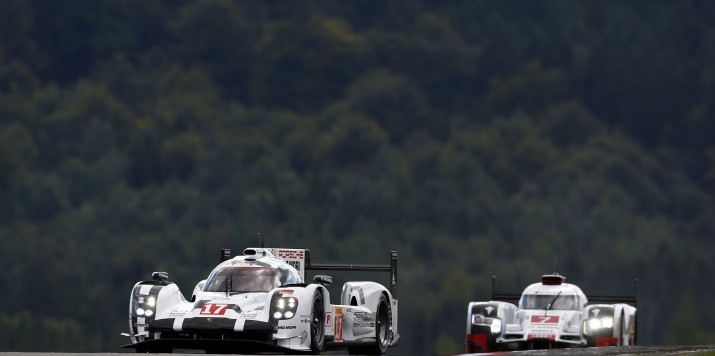 Porsche 919 Hybrid, Porsche Team: Timo Bernhard, Brendon Hartley, Mark Webber
On home soil the Porsche Team achieved the eighth pole position for the Porsche 919 Hybrid since its race debut last year. The current season has so far seen a 919 on pole for every round of the FIA World Endurance Championship (WEC). On the 5.137 kilometre long Nürburgring track drivers Romain Dumas (FR) and Marc Lieb (DE) were the overall fastest in qualifying for Sunday's six-hour race. The grid position right next to them was claimed by Timo Bernhard (DE) and Mark Webber (AUS) at the wheel of the sister car for the first ever German round of the WEC.
Porsche, the 2015 Le Mans winner, maximised its chances to defend the lead in the manufacturers' world championship in tomorrow's race.
In the WEC the average of the best laps of two drivers counts for the grid position. Dumas/Lieb achieved an average time of 1:36.473 minutes with Lieb putting in the overall fastest lap with a time of 1:36.192 minutes. For Bernhard/Webber the clock stopped at 1.36,542 minutes. For the race Brendon Hartley (NZ, car number 17) and Neel Jani (CH, car number 18) complete the driver line-ups. In order to help qualifying preparation, these two did not drive in the third free practice session on Saturday morning either. That 60-minute practice saw both Porsche 919 Hybrids topping the time sheets, with car number 18 being quickest (1:36.036 min) and car number 17 coming second (1:36.647 min).
The race at the Nürburgring is the fourth of eight rounds of the 2015 WEC and will start on Sunday at 13:00 hrs (CEST). The TV channel Eurosport will broadcast the final hour of the race and the podium ceremony live from 18:00 until 19:15 hrs.
"Great day for Porsche with another front row lock out," said Mark."Especially on such a short circuit this shows the progress we have made with the car. On my first attempt another car got in my way and we organised ourselves to do another lap, which wasn't planned. We are in a great shape and, anyway, qualifying is only a small part of the job in endurance racing."
1 Comment
Susan

on August 30, 2015

Reply

Gr8 you're on front row. Hope you do well in the race. Drive hatd stay safe.
Add comment
LATEST EVENTS
Australian Grand Prix
April 8-10
Mark joins Channel 10 in Melbourne as the Australian Grand Prix returns after a two year hiatus.